690806 - Letter to Kirtanananda written from Los Angeles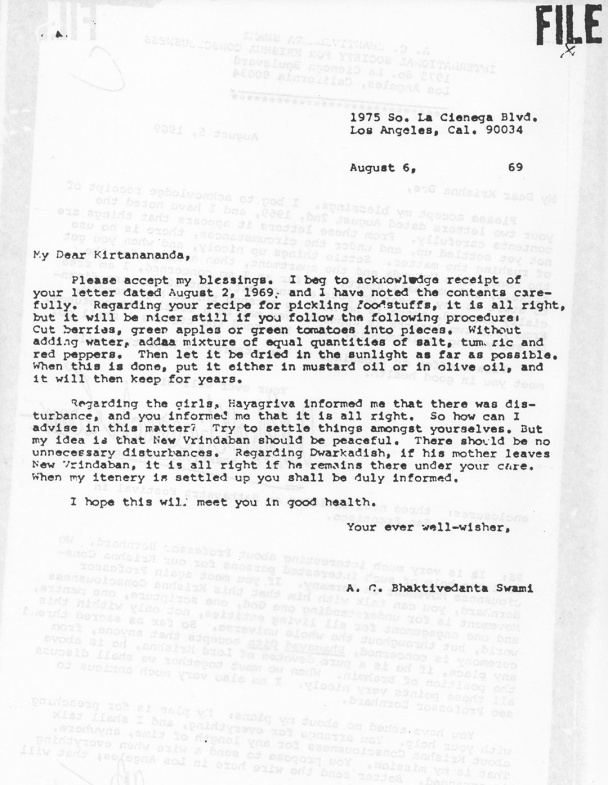 1975 So. La Cienega Blvd.
Los Angeles, Cal. 90034
August 6,            69

My Dear Kirtanananda,
Please accept my blessings. I beg to acknowledge receipt of your letter dated August 2, 1969, and I have noted the contents carefully. Regarding your recipe for pickling foodstuffs, it is all right, but it will be nicer still if you follow the following procedure: Cut berries, green apples or green tomatoes into pieces. Without adding water, add a mixture of equal quantities of salt, turmeric and red peppers. Then let it be dried in the sunlight as far as possible. When this is done, put it either in mustard oil or in olive oil, and it will then keep for years.
Regarding the girls, Hayagriva informed me that there was disturbance, and you informed me that it is all right. So how can I advise in this matter? Try to settle things amongst yourselves. But my idea is that New Vrindaban should be peaceful. There should be no unnecessary disturbances. Regarding Dwarakadhish, if his mother leaves New Vrindaban, it is all right if he remains there under your care. When my itinerary is settled up you shall be duly informed.
I hope this will meet you in good health.
Your ever well-wisher,
[unsigned]
A.C. Bhaktivedanta Swami