690805 - Letter to Yamuna written from Los Angeles
From Vanisource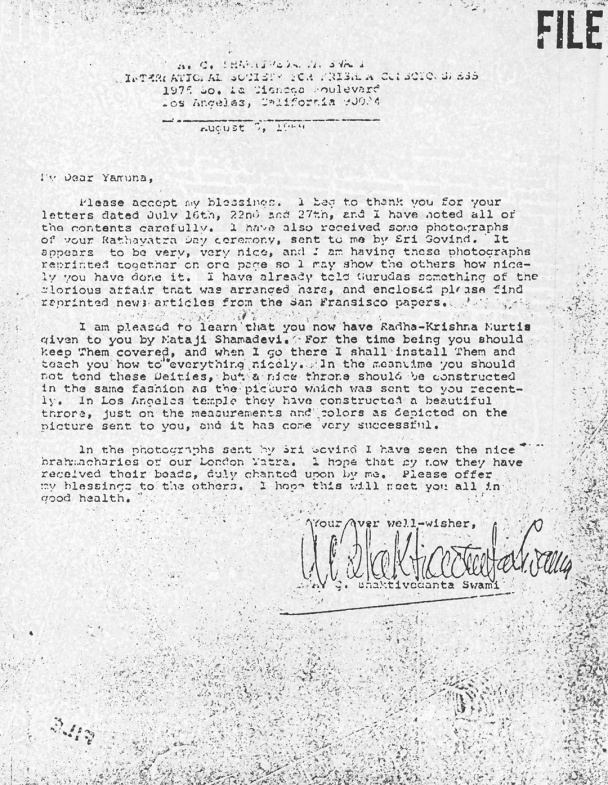 A.C. BHAKTIVEDANTA SWAMI
INTERNATIONAL SOCIETY FOR KRISHNA CONSCIOUSNESS
1975 So. La Cienega Blvd.
Los Angeles, California 90034
August 5, 1969

My Dear Yamuna,
Please accept my blessings. I beg to thank you for your letters dated July 16th, 22nd and 27th, and I have noted all of the contents carefully. I have also received some photographs of your Rathayatra Day ceremony, sent to me by Sri Govind. It appears to be very, very nice, and I am having these photographs reprinted together on one page so I may show the others how nicely you have done it. I have already told Gurudas something of the glorious affair that was arranged here, and enclosed please find reprinted news articles from the San Francisco papers.
I am pleased to learn that you now have Radha-Krishna Murtis given to you by Mataji Shamadevi. For the time being you should keep Them covered, and when I go there I shall install Them and teach you how to do [handwritten]] everything nicely. In the meantime you should not tend these Deities, but a nice throne should be constructed in the same fashion as the picture which was sent to you recently. In Los Angeles temple they have constructed a beautiful throne, just on the measurements and colors as depicted on the picture sent to you, and it has come very successful.
In the photographs sent by Sri Govind I have seen the nice brahmacaries of our London Yatra. I hope that by now they have received their beads, duly chanted upon by me. Please offer my blessings to the others. I hope this will meet you all in good health.