690711 - Letter to Sivananda written from Los Angeles
From Vanisource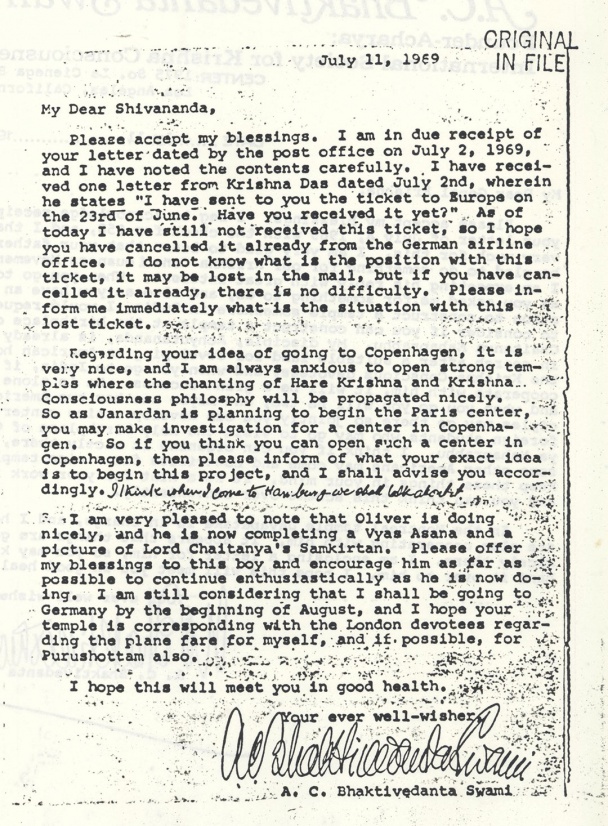 July 11, 1969

My Dear Shivananda,
Please accept my blessings. I am in due receipt of your letter dated by the post office on July 2, 1969, and I have noted the contents carefully. I have received one letter from Krishna Das dated July 2nd, wherein he states "I have sent to you the ticket to Europe on the 23rd of June. Have you received it yet?" As of today I have still not received this ticket, so I hope you have cancelled it already from the German airline office. I do not know what is the position with this ticket, it may be lost in the mail, but if you have cancelled it already, there is no difficulty. Please inform me immediately what is the situation with this lost ticket.
Regarding your idea of going to Copenhagen, it is very nice, and I am always anxious to open strong temples where the chanting of Hare Krishna and Krishna Consciousness philosophy will be propagated nicely. So as Janardan is planning to begin the Paris center, you may make investigation for a center in Copenhagen. So if you think you can open such a center in Copenhagen, then please inform of what your exact idea is to begin this project, and I shall advise you accordingly. I think when I come to Hamburg we shall talk about it. [handwritten]
I am very pleased to note that Oliver is doing nicely, and he is now completing a Vyas Asana and a picture of Lord Chaitanya's Samkirtan. Please offer my blessings to this boy and encourage him as far as possible to continue enthusiastically as he is now doing. I am still considering that I shall be going to Germany by the beginning of August, and I hope your temple is corresponding with the London devotees regarding the plane fare for myself, and if possible, for Purusottam also.
I hope this will meet you in good health.