690621 - Letter to Jayapataka written from New Vrindaban, USA
From Vanisource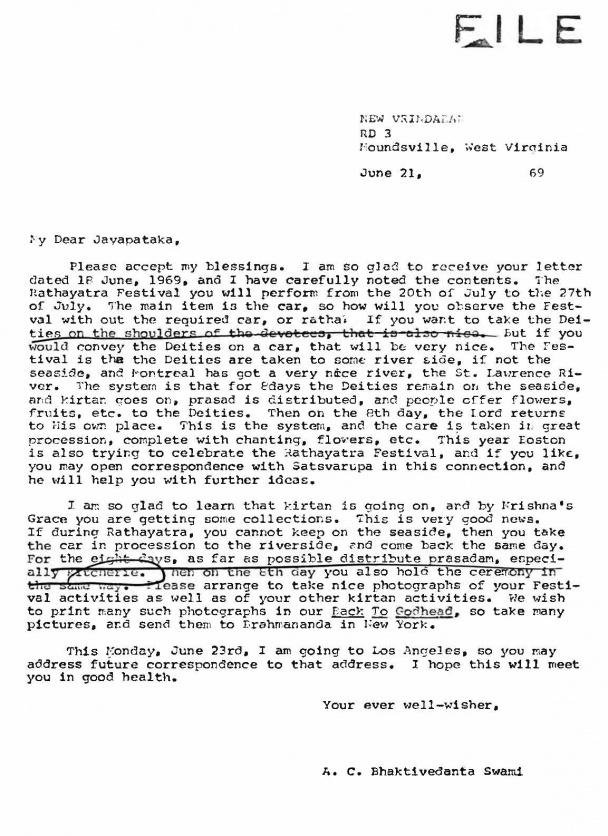 NEW VRINDABAN
RD 3
Moundsville, West Virginia
June 21, 69

My Dear Jayapataka,
Please accept my blessings. I am so glad to receive your letter dated 18 June, 1969, and I have carefully noted the contents. The Rathayatra Festival you will perform from the 20th of July to the 27th of July. The main item is the car, so how will you observe the Festival with out the required car, or ratha. If you want to take the Deities on the shoulders of the devotees, that is also nice. But if you would convey the Deities on a car, that will be very nice. The Festival is the Deities are taken to some river side, if not the seaside, and Montreal has got a very nice river, the St. Lawrence River. The system is that for 8 days the Deities remain on the seaside, and kirtana goes on, prasad is distributed, and people offer flowers, fruits, etc. to the Deities. Then on the 8th day, the Lord returns to His own place. This is the system, and the care is taken in great procession, complete with chanting, flowers, etc. This year Boston is also trying to celebrate the Rathayatra Festival, and if you like, you may open correspondence with Satsvarupa in this connection, and he will help you with further ideas.
I am so glad to learn that Kirtan is going on, and by Krishna's Grace you are getting some collections. This is very good news. If during Rathayatra, you cannot keep on the seaside, then you take the car in procession to the riverside, and come back the same day. For the eight days, as far as possible distribute prasadam, especially khichadi. Then on the 8th day you also hold the ceremony in the same way. Please arrange to take nice photographs of your Festival activities as well as of your other kirtan activities. We wish to print many such photographs in our Back To Godhead, so take many pictures, and send them to Brahmananda in New York.
This Monday, June 23rd, I am going to Los Angeles, so you may address future correspondence to that address. I hope this will meet you in good health.
Your ever well-wisher,
[unsigned]
A.C. Bhaktivedanta Swami