690526 - Letter to Pradyumna written from New Vrindaban, USA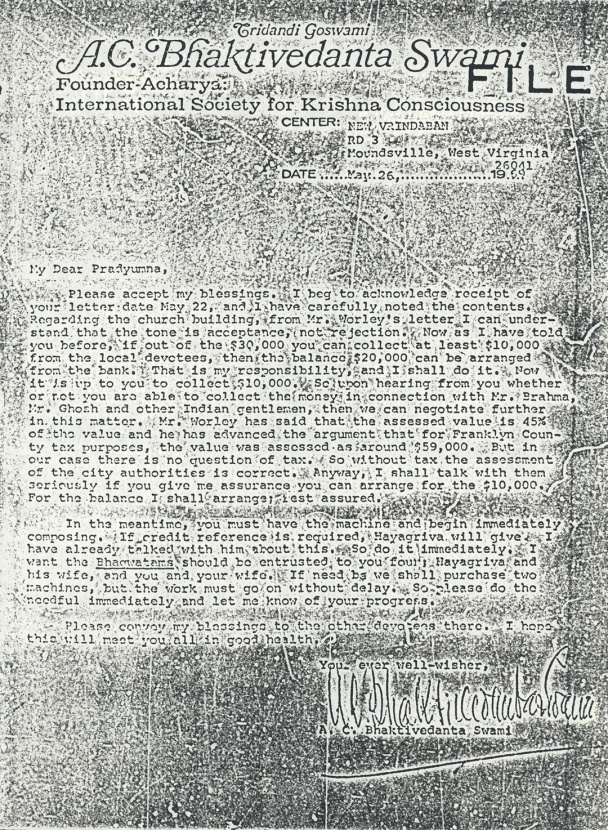 Tridandi Goswami
A.C. Bhaktivedanta Swami
Founder-Acharya:
International Society for Krishna Consciousness
CENTER: NEW VRINDABAN
              RD 3
              Moundsville, West Virginia
              26041
DATE......May 26,..........................1969

My Dear Pradyumna,
Please accept my blessings. I beg to acknowledge receipt of your letter dated May 22, and I have carefully noted the contents. Regarding the church building, from Mr. Worley's letter I can understand that the tone is acceptance, not rejection. Now as I have told you before, if out of the $30,000 you can collect at least $10,000 from the local devotees, then the balance $20,000 can be arranged from the bank. That is my responsibility, and I shall do it. Now it is up to you to collect $10,000. So upon hearing from you whether or not you are able to collect $10,000. So upon hearing from you whether or not you are able to collect the money in connection with Mr. Brahma, Mr. Ghosh and other Indian gentlemen, then we can negotiate further in this matter. Mr. Worley has said that the assessed value is 45% of the value and he has advanced the argument that for Franklyn County tax purposes, the value was assessed as around $59,000. But in our case there is no question of tax. So without tax the assessment of the city authorities is correct. Anyway, I shall talk with them seriously if you give me assurance you can arrange for the $10,000. For the balance I shall arrange; rest assured.
In the meantime, you must have the machine and begin immediately composing. If credit reference is required, Hayagriva will give. I have already talked with him about this. So do it immediately. I want the Bhagwatams should be entrusted to you four; Hayagriva and his wife, and you and your wife. If need be we shall purchase two machines, but the work must go on without delay. So please do the needful immediately and let me know of your progress.
Please convey my blessings to the other devotees there. I hope this will meet you all in good health.