690526 - Letter to Brahmananda written from New Vrindaban, USA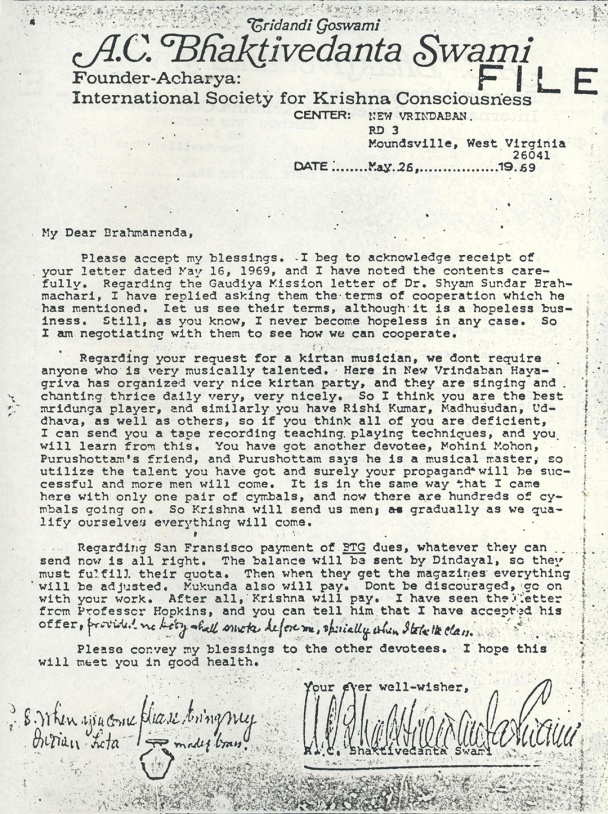 Tridandi Goswami
A.C. Bhaktivedanta Swami
Founder-Acharya:
International Society for Krishna Consciousness
CENTER: NEW VRINDABAN
              RD 3
              Moundsville, West Virginia
              26041
DATE......May 26,..........................1969



My Dear Brahmananda,
Please accept my blessings. I beg to acknowledge receipt of your letter dated May 16, 1969, and I have noted the contents carefully. Regarding the Gaudiya Mission letter of Dr. Shyam Sundar Brahmachari, I have replied asking them the terms of cooperation which he has mentioned. Let us see their terms, although it is a hopeless business. Still, as you know, I never become hopeless in any case. So I am negotiating with them to see how we can cooperate.
Regarding your request for a kirtan musician, we don't require anyone who is very musically talented. Here in New Vrindaban Hayagriva has organized very nice kirtan party, and they are singing and chanting thrice daily very, very nicely. So I think you are the best mridunga player, and similarly you have Rishi Kumar, Madhusudan, Uddhava, as well as others, so if you think all of you are deficient, I can send you a tape recording teaching playing techniques, and you will learn from this. You have got another devotee, Mohini Mohon, Purushottam's friend, and Purushottam says he is a musical master, so utilize the talent you have got and surely your propaganda will be successful and more men will come. It is in the same way that I came here with only one pair of cymbals, and now there are hundreds of cymbals going on. So Krishna will send us men; gradually as we qualify ourselves everything will come.
Regarding San Francisco payment of BTG dues, whatever they can send now is all right. The balance will be sent by Dindayal, so they must fulfill their quota. Then when they get the magazines everything will be adjusted. Mukunda also will pay. Don't be discouraged, go on with your work. After all, Krishna will pay. I have seen the letter from Professor Hopkins, and you can tell him that I have accepted his offer, provided nobody shall smoke before me, specially when I take the class. [handwritten]
Please convey my blessings to the other devotees. I hope this will meet you in good health.
Your ever well-wisher,



A.C. Bhaktivedanta Swami
P.S. When you come please bring my Indian Lota made of brass. [handwritten]