690323 - Letter to Dayala Nitai written from Hawaii
From Vanisource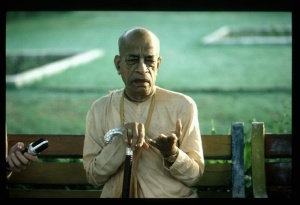 March 23, 1969

My Dear Dayala Nitai,
Please accept my blessings. I thank you very much for your very nice letter of March 19th, and I can understand how you are feeling. Yes, you must fix up in your mind to spread this message to the French population with our BTG and other books, that is my request. I thank you for sending me the second copy of BTG French edition. So now my only request to you, and especially both to you and Janardana, that you kindly regularly publish one issue every month of this French BTG. That will make you very much happy and will make me always very much happy. And Krishna will bestow all blessings to you in this endeavor. In this connection, if you think that by printing the yogi literature you will get some monetary help, then I give you permission that you can print it. But my standing request is this: Amongst yourselves there should not be any disagreement. Whatever you do, you do it by joint consultation. Because our center of activities is Krishna, for Krishna's sake we can sacrifice our life, wealth, words, intelligence, everything. Of course, as individuals, we have sometimes disagreements, but that should be adjusted keeping our central attention to Krishna. So what is done is done; hence forward, you do everything jointly and we shall put out at least one issue of BTG French edition every month—even it may consist of one printed page only, still it must be published once monthly. That is my desire. It is better undoubtedly to have a full magazine as our English edition BTG, but if you have no time, or you are doing this or that, then do not neglect it completely—it is better to publish and distribute a one page BTG issue than no issue at all each month. Now this work is specially entrusted to you and Janardana; so please execute it.
I hope this meets you in good health, and convey all blessings to your God-brothers and God-sisters there.
Your ever well-wisher,
A.C. Bhaktivedanta Swami