690319 - Letter to Madhavi Lata written from Hawaii
From Vanisource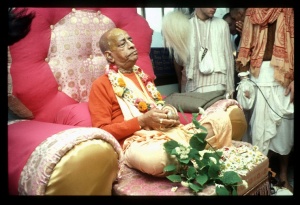 March 19, 1969

My Dear Madhavi Lata dasi,
Please accept my blessings. I am in due receipt of your telegram dated March 13, 1969, and am glad to hear from you. You have sent a very nice proposal, and if you can organize a Brahmacarini department, and manage it, the idea is very nice. But I am afraid you are not fixed up enough to carry on so much responsibility.
Best thing will be if you can engage your time and energy fully in chanting and in painting nice pictures. You are very talented girl, and you can paint very super excellent pictures, I have seen it. Now the thing is that we are opening new branches all over the world, and we require so many pictures in our temples so that people may come and see and be attracted by the beauty of Krishna. That is needed. The people today are fascinated by so much of the glimmering so-called beauty of the external energy, and there is necessity of seeing beautiful pictures of Krishna and His devotees and His Pastimes, in order to attract them to the spiritual process. So this is a great service, and there is urgent need for such paintings. Our Jadurani has done so many nice pictures, and they are distributed amongst our temples, but still there is shortage of supply. and she is now sick, and unable to work very swiftly due to her health condition. So I request you to simply sit down wherever you are, and paint nice pictures for being distributed to all centers. This will help you, and it will help others as well.
I shall be happy to hear from you at your convenience, and I hope you are feeling well,
Your ever well wisher,
A.C. Bhaktivedanta Swami