690308 - Letter to Satsvarupa written from Hawaii
From Vanisource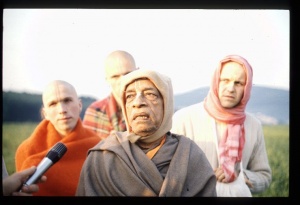 March 08, 1969
My Dear Satsvarupa,
Please accept my blessings, and offer the same to my beloved daughter, Srimati Jadurani. I am in due receipt of your letter dated Feb. 2, 1969, as well as of Feb. 5, 1969. I plan to go to New York by the first week of April, so you can arrange your scheduled meetings on the 24th by which time I shall be ready to go to Boston.
This climate of Hawaii is most healthy, with sunshine and fresh sea breeze, so I think if it is possible for Jadurani to come to this climate she may improve her health nicely. Consult together on this proposal, and you can correspond with Gaurasundara and Govinda dasi here in this regard.
Regarding your question: I do not remember if Rayarama ever chanted very loudly in my room, neither he ever lived in my room, nor I had ever asked him not to chant loudly. I do not know how these news are spread. There is no such requirement that Japa should be silently and chanting should be be done differently. Loudly or silently, everything is all right. There is no such restriction. Only thing is that we should chant very attentively, hearing the vibration very distinctly.
I have received the typed copy of tape number 6, and I am sending tomorrow tape number 7.*
I hope you are well and that Jadurani's health is somewhat better; she must rest nicely. Please convey my blessings and best wishes to all the devotees there.
Your ever well-wisher,
A.C. Bhaktivedanta Swami
*enclosed herewith