690306 - Letter to Purusottama written from Hawaii
From Vanisource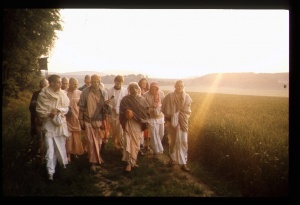 March 06, 1969

My Dear Purusottama,
Please accept my blessings. I am glad to inform you that we have reached Hawaii in due time on Monday afternoon and immediately we met the devotees who came to receive us and I have come directly to Govinda dasi's residence. This place is very nice. It is just on the seashore and from the room on the second floor we can always see the seaview, so it is both scenic and healthy atmosphere. But it is a very distant place from our temple. It takes almost two hours to come and go by car. Therefore I am giving you the following address for mailing of my letters and redirecting our mails.
A.C. Bhaktivedanta Swami
P.O. Box 506
Kaawa, Oahu
HAWAII 96730
We performed Lord Caitanya's Birthday ceremony, not very gorgeously, but amongst ourselves, and Govinda dasi cooked very nice Ekadasi foodstuffs. The next day I expected some big ceremony but it couldn't be performed. We are looking out for a better place where the Brahmacaris and the temple can be united. At the present moment, it is very scattered and actually the temple management is impossible to be in order. So, for the time being you can redirect all my mails to my above post box address in this village.
Please offer my blessings to all and I shall be glad to hear from you how the things are going there. Awaiting your early reply,
Your ever well-wisher,
A.C. Bhaktivedanta Swami