690207 - Letter to Bhurijana written from Los Angeles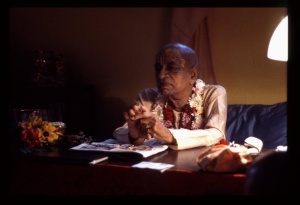 February 07, 1969

My Dear Bhurijana,
Please accept my blessings. I am in due receipt of your letter dated February 3, 1969, and I am so pleased and encouraged to note the contents. Your idea of going to North Carolina is excellent because there are so many students there, and you are college graduate, so I think that you are just the devotee to do the job nicely. The only thing is that I do not think it is necessary for you to go there alone, so immediately you may contact Tosana Krishna in Santa Fe temple, and he is also willing to go there to be your assistant. If the two of you find the place suitable, then for some time myself and Purusottama will go there to make the center fortified. So you may write immediately to Tosana Krishna in this connection, and the both of you may start on this important new endeavor.
Regarding the seed which you have sent, yes, they are genuine tulsi seeds. I understand from your letter that Kanupriya has not yet received his initiation beads for chanting upon, but they were sent over two weeks ago. I am enclosing a carbon of the letter which I had sent along with his beads, and if he has still not received them, please request him to send another pair of beads, and I will send these back to him duly chanted upon.
Thank you again for your most encouraging letter, and I shall be awaiting further news from you in this matter.
Your ever well-wisher,
A.C. Bhaktivedanta Swami