690131 - Letter to Satsvarupa written from Los Angeles
From Vanisource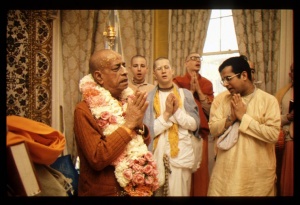 January 31, 1969

My Dear Satsvarupa,
Please accept my blessings. I have received your letter dated January 28, 1969 regarding Jadurani's sick health. She requires complete rest. All of her work should be suspended, and she should be given liquid foods, just like barley water mixed with milk. Purchase pearl barley from the market, and the recipe is 1 cup of barley and four cups of water to be boiled for at least 1/2 hour. That liquid preparation may be mixed with milk and sugar, and she may take. Jadurani must not exert herself in any way. She should take complete rest and chant Hare Krishna. When she next wants to begin work, she must take my permission. For the time being, all work must be suspended.
Regarding your letter dated January 25, 1969, I have already sent to you tapes #2 and #3. As an experiment, I sent tape #3 by ordinary mail at the concession rate for tapes. Please let me know when this tape #3 has reached you. If it does not arrive too late then we can continue to exchange in the mail at this postage rate of five cents. You do not require to send finished tapes to Dinesh. Please send them directly to me.
I think that work on the pictures shall remain suspended for the time being. Altogether I have received four pictures for the Krishna book, and two pictures for the temple, one of My Guru Maharaja and one of Gaura Kisora das Babaji.
Regarding the two missing verses of the third canto, I shall get them done conveniently. I hope that by this time Jadurani's health must have improved. Please convey my blessings to the others.
Your ever well-wisher,
A.C. Bhaktivedanta Swami