681212 - Letter to Saradia written from Los Angeles
From Vanisource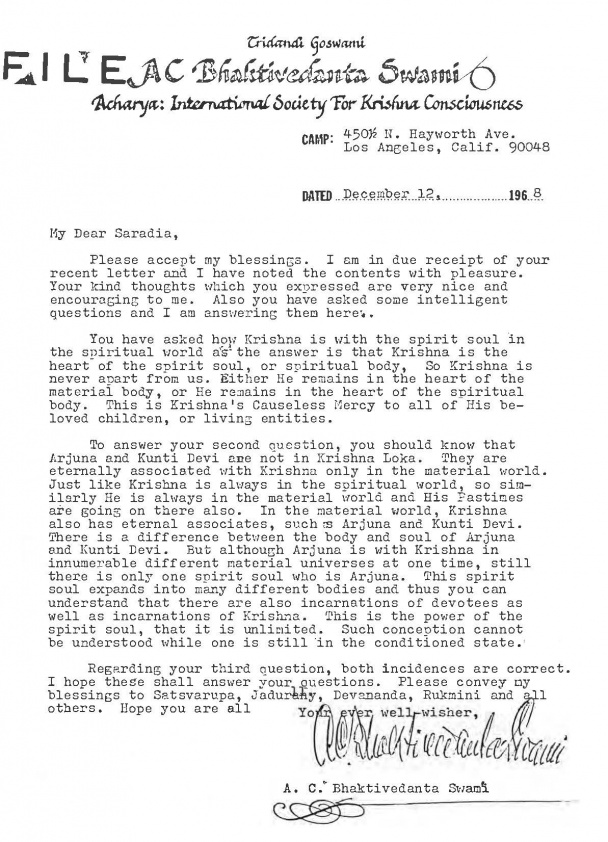 Tridandi Goswami
AC Bhaktivedanta Swami
Acharya: International Society For Krishna Consciousness
CAMP: 4501/2 N. Hayworth Ave.
          Los Angeles, Calif. 90048

DATED ..December...12,...............196..8.


My Dear Saradia,
Please accept my blessings. I am in due receipt of your recent letter and I have noted the contents with pleasure. Your kind thoughts which you expressed are very nice and encouraging to me. Also you have asked some intelligent questions and I am answering them here.
You have asked how Krishna is with the spirit soul in the spiritual world and the answer is that Krishna is the heart of the spirit soul, or spiritual body, So Krishna is never apart from us. Either He remains in the heart of the material body, or He remains in the heart of the spiritual body. This is Krishna's Causeless Mercy to all of His beloved children, or living entities.
To answer your second question, you should know that Arjuna and Kunti Devi are not in Krishna Loka. They are eternally associated with Krishna only in the material world. Just like Krishna is always in the spiritual world, so similarly He is always in the material world and His Pastimes are going on there also. In the material world, Krishna also has eternal associates, such as Arjuna and Kunti Devi. There is a difference between the body and soul of Arjuna and Kunti Devi. But although Arjuna is with Krishna in innumerable different material universes at one time, still there is only one spirit soul who is Arjuna. This spirit soul expands into many different bodies and thus you can understand that there are also incarnations of devotees as well as incarnations of Krishna. This is the power of the spirit soul, that it is unlimited. Such conception cannot be understood while one is still in the conditioned state.
Regarding your third question, both incidences are correct. I hope these shall answer your questions. Please convey my blessings to Satsvarupa, Jadurany, Devananda, Rukmini and all others. Hope you are all well.
Your ever well-wisher,



A.C. Bhaktivedanta Swami