681208 - Letter to Kirtanananda written from Los Angeles
From Vanisource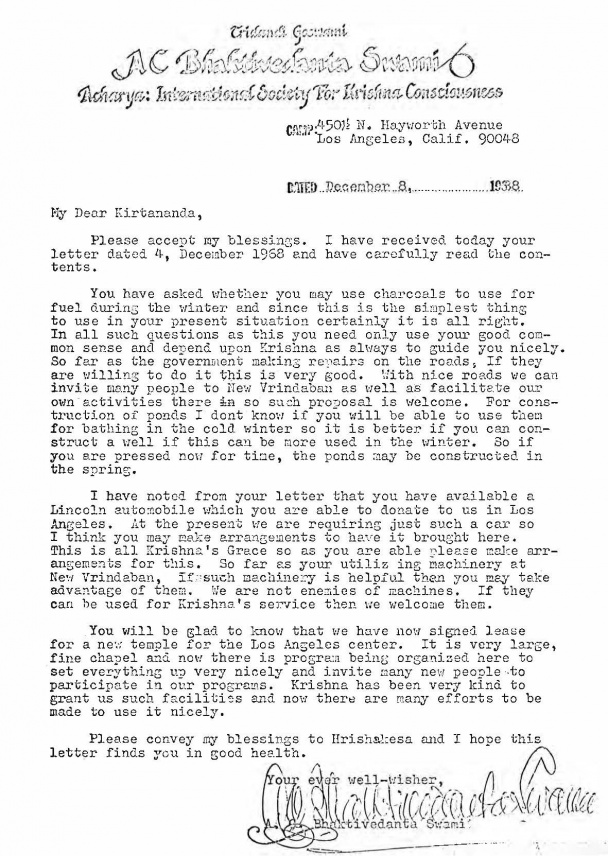 Tridandi Goswami
AC Bhaktivedanta Swami
Acharya: International Society For Krishna Consciousness
CAMP: 4501/2 N. Hayworth Ave.
          Los Angeles, Calif. 90048

DATED ..December..8,................1968.

My Dear Kirtanananda,
Please accept my blessings. I have received today your letter dated 4, December 1968 and have carefully read the contents.
You have asked whether you may use charcoals to use for fuel during the winter and since this is the simplest thing to use in your present situation certainly it is all right. In all such questions as this you need only use your good common sense and depend upon Krishna as always to guide you nicely. So far as the government making repairs on the roads, If they are willing to do it this is very good. With nice roads we can invite many people to New Vrindaban as well as facilitate our own activities there so such proposal is welcome. For construction of ponds I don't know if you will be able to use them for bathing in the cold winter so it is better if you can construct a well if this can be more used in the winter. So if you are pressed now for time, the ponds may be constructed in the spring.
I have noted from your letter that you have available a Lincoln automobile which you are able to donate to us in Los Angeles. At the present we are requiring just such a car so I think you may make arrangements to have it brought here. This is all Krishna's Grace so as you are able please make arrangements for this. So far as your utilizing machinery at New Vrindaban, if such machinery is helpful then you may take advantage of them. We are not enemies of machines. If they can be used for Krishna's service then we welcome them.
You will be glad to know that we have now signed lease for a new temple for the Los Angeles center. It is very large, fine chapel and now there is program being organized here to set everything up very nicely and invite many new people to participate in our programs. Krishna has been very kind to grant us such facilities and now there are many efforts to be made to use it nicely.
Please convey my blessings to Hrishikesa and I hope this letter finds you in good health.