681126 - Letter to Upendra written from Los Angeles
From Vanisource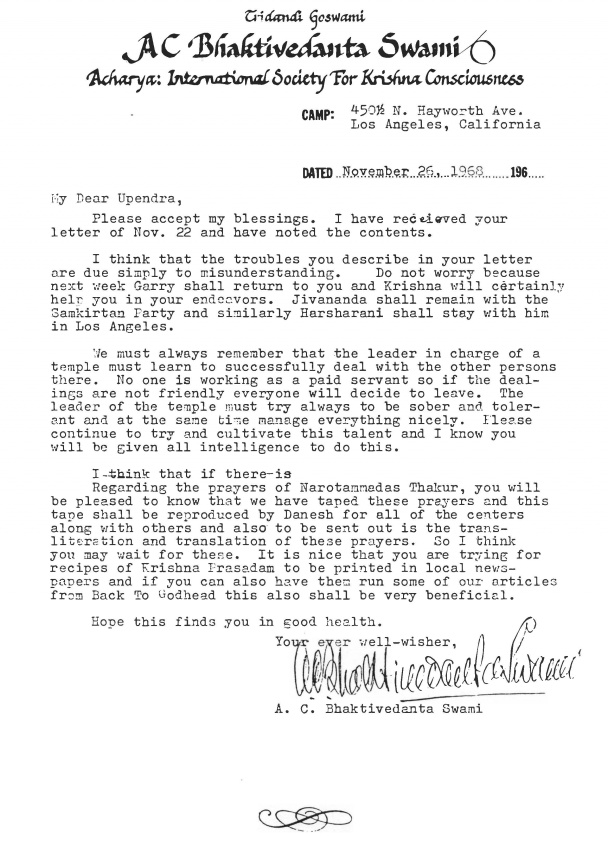 Tridandi Goswami
AC Bhaktivedanta Swami
Acharya: International Society For Krishna Consciousness
CAMP:   4501/2 N. Hayworth Ave.
            Los Angeles, California.

DATED ..November..26,...1968........196....

My Dear Upendra,
Please accept my blessings. I have received your letter of Nov. 22 and have noted the contents.
I think that the troubles you describe in your letter are due simply to misunderstanding. Do not worry because next week Garry shall return to you and Krishna will certainly help you in your endeavors. Jivananda shall remain with the Samkirtan Party and similarly Harsharani shall stay with him in Los Angeles.
We must always remember that the leader in charge of a temple must learn to successfully deal with the other persons there. No one is working as a paid servant so if the dealings are not friendly everyone will decide to leave. The leader of the temple must try always to be sober and tolerant and at the same time manage everything nicely. Please continue to try and cultivate this talent and I know you will be given all intelligence to do this.
Regarding the prayers of Narottammadas Thakur, you will be pleased to know that we have taped these prayers and this tape shall be reproduced by Danesh for all of the centers along with others and also to be sent out is the transliteration and translation of these prayers. So I think you may wait for these. It is nice that you are trying for recipes of Krishna Prasadam to be printed in local newspapers and if you can also have them run some of our articles from Back To Godhead this also shall be very beneficial.
Hope this finds you in good health.