681126 - Letter to Hrsikesa written from Los Angeles
From Vanisource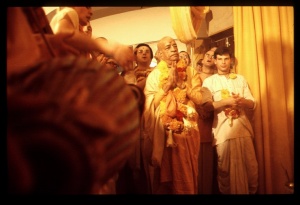 November 26, 1968

My Dear Hrsikesa,
Please accept my blessings. I have read with pleasure your recent letter (undated). From it I can understand that you are advancing very nicely in Krishna Consciousness. You are correct in your estimation that all activities, even so-called frustrations, become a great joy when is working for Krishna. This is the clue to successful work which is revealed in Bhagavad-gita, that we should concern ourselves only with giving everything to Krishna and all the frustrations of sinful reactions will be no more. The reason men are suffering and frustrated is because they are accepting the sinful reactions from their sinful activities, so in Krishna Consciousness we are free from all such botheration because we have donated all of our fruits and reactions to the service of the Lord. When we keep our association with Krishna every activity is proper and liberating but if we should dissociate ourselves from the Lord's Mercy then like a hand which is severed from the body we become ugly and useless. Please continue your efforts to improve New Vrindaban along with your god-brothers there and no doubt Krishna will help you to make further progress in perfecting your life in Krishna Consciousness.
Regarding the Christmas Day meal with your family, I do not think you should partake of the food prepared by non-devotees. Better you should prepare your own foodstuffs and offer to Krishna and then, if you like, you may offer these remnants to Lord Jesus. I think that Lord Jesus will also appreciate this. Of course you may sit down with your family and take fruits and milk which they offer but rather than taking the foods which they have prepared, you may prepare and offer your own prasadam for Lord Krishna, and then offer the same to Lord Jesus.
So far as your studying the art of blacksmith goes, I do not see the necessity. Better is that you should develop your carpentry skills as this will prove a more valuable skill in the development of New Vrindaban.
Hope this letter finds you in good health.
Your ever well-wisher,
A.C. Bhaktivedanta Swami