681010 - Letter to Sivananda written from Seattle
From Vanisource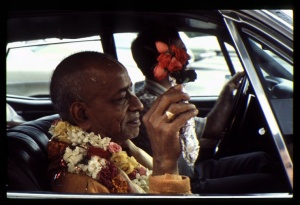 October 10, 1968

My Dear Sivananda,
Please accept my blessings. I was in due receipt of your nice letter dated Sept. 29, 1968, and I was so glad to read as you write to say, "I opened the temple on Thursday and am in the process of fixing it up." It is so much pleasing to me and what can I give you?! I can simply pray to Krishna for your long life and prosperous service to Krishna. Please do it nicely and if you think that I shall go there, I am prepared. I do not mind for the severe cold there, but if you think that my service will be helpful to you, you can call me, I shall go. But I am very much anxious to know about your further progress, and whether the boys, namely Krishna das, and Uttama Sloka, have already arrived there. I am expecting your letter containing all these informations any moment, but till now I have not got any letter. Please therefore write all details by return mail. If you require help from Syamasundara for carving Jagannatha Deity, you can ask him and he may go there for a few days. He knows German language very well. So do everything nicely. So the boys and girls from San Francisco who are in London, they are doing their best but till now they have not been able to find out a house on rent. I am surprised that in Germany you could find out a place without any difficulty, and why there are so many difficulties in London? So that, in spite of there being a strong group of 6 persons, headed by Mukunda and Syamasundara, they could not find out a house in London, whereas you alone have already opened ISKCON RADHA KRISHNA TEMPLE in Berlin. Anyway, please do it nicely with help of other two boys, and let me know how you are making progress.
Regarding Acyutananda, as you do not require their help, I am writing to them in India not to come at present. Perhaps you know the address of Syamasundara in London; it is as follows: Samuel Speerstra; 80 Herne Hill; London S.E. 24; England. So keep in correspondence with them, and also with me regularly and make the Berlin center a first class temple of our society. We have to do so many works there. Especially translating in German language all our books and magazines. I think in cooperation with Syamasundara and the German boy, Uttama Sloka, there will be no difficulty so far language is concerned, and Krishna das will work there as jeweler, so there will be no financial difficulty also. Do everything nicely and let me know.
I am trying to get one office in the Church Center of the United Nations, with an idea to confer with the heads of all churches and nations about our Krishna Consciousness movement.
Here in Seattle, things are going very nicely. Last night, there was one radio program for two hours, and the Kirtana party sang so many songs and prayers very nicely. As I have no indication from European side for my going there at present, I am thinking of going to Los Angeles. But I am very much anxious to go to your newly opened center in Germany.
Hope this finds you in good health, and in full Krishna Consciousness. May Krishna bless you. I beg to remain,
Your ever well-wisher,
A.C. Bhaktivedanta Swami