681006 - Letter to Purusottama written from Seattle
From Vanisource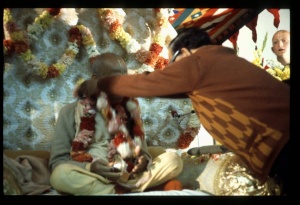 October 06, 1968

My Dear Purusottama,
Please accept my blessings. I am in due receipt of your letter dated Oct. 2, 1968, as well as your telegram dated Oct. 3, 1968, reading as follows: Have obtained UN office. $100 monthly. Letter follows. Isokrishna Purusottama. In the meantime it is understood that everything is complete, and it is all Krishna's Grace that we have got a center in the United Nations. And you shall be in charge of the office as the secretary, and if possible, I may be living with you for conducting this office specifically. The activities of this office will be simply to educate the United Nations people, the leaders of all nations, and the representatives of all nations, about our missionary activities, analyzing the present society's position, and how they can be elevated to the right position. So we have to make vigorous propaganda work from these centers to people of the whole world. So let us see how Krishna helps us, but I think by getting this office, we have opened a new door to our Krishna Consciousness movement. So you should learn in the meantime typewriting very nicely because you have to write so many letters till we get some other assistant. Another proposal is if it is possible to get a nice apartment nearby, then it will be great facility, because if I live there, with you, we can attend the office and live in the apartment. I do not insist this proposal immediately, but I am thinking in that way. Anyway, we have to utilize this office very nicely for pushing forward the cause of Krishna Consciousness. I am enclosing herewith also one letter for Brahmananda, which please deliver to him.
Hoping you are well,
Your ever well-wisher,
A.C. Bhaktivedanta Swami
P.S. I have very much appreciated your discussion in the Istagosthi and so also Rayarama's. We have to collect men for Krishna Consciousness & therefore we may not be harsh to them.