680904 - Lecture Excerpt - New York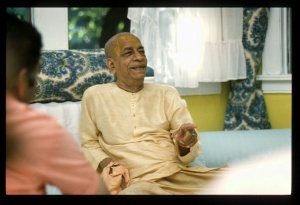 680904LE-NEW YORK - September 04, 1968 - 15:38 Minutes

Prabhupāda: (maṅgalācaraṇa prayers)
oṁ ajṣāna-timirāndhasya
jṣānāṣjana-śalākayā
cakṣur unmīlitaṁ yena
tasmai śrī-gurave namaḥ
śrī-caitanya-mano-'bhīṣṭaṁ
sthāpitaṁ yena bhū-tale
svayaṁ rūpaḥ kadā mahyaṁ
dadāti sva-padāntikam
(Śrī Guru Praṇāma)
vande 'haṁ śrī-guroḥ śrī-yuta-pada-kamalaṁ śrī-gurūn vaiṣṇavāṁś ca
śrī-rūpaṁ sāgrajātaṁ saha-gaṇa-raghunāthānvitaṁ taṁ sa-jīvam
sādvaitaṁ sāvadhūtaṁ parijana-sahitaṁ kṛṣṇa-caitanya-devaṁ
śrī-rādhā-kṛṣṇa-pādān saha-gaṇa-lalitā-śrī-viśākhānvitāṁś ca
(Maṅgalācaraṇa)
nama oṁ viṣṇu-pādāya kṛṣṇa-preṣṭhāya bhū-tale
śrīmate bhaktisiddhānta-sarasvatīti nāmine
śrī-vārṣabhānavī-devī-dayitāya kṛpābdhaye
kṛṣṇa-sambandha-vijṣāna-dāyine prabhave namaḥ
mādhuryojjvala-premāḍhya-śrī-rūpānuga-bhaktida-
śrī-gaura-karuṇā-śakti-vigrahāya namo 'stu te
namas te gaura-vāṇī-śrī-mūrtaye dīna-tāriṇe
rūpānuga-viruddhāpasiddhānta-dhvānta-hāriṇe
(Śrīla Bhaktisiddhānta Sarasvatī Praṇati)
ājānu-lambita-bhujau kanakāvadātau
saṅkīrtanaika-pitarau kamalāyatākṣau
viśvambharau dvija-varau yuga-dharma-pālau
vande jagat priya-karau karuṇāvatārau
(CB Adi-khaṇḍa 1.1)
namas trikāla satyāya
jagannātha sutāya ca
sa-bhṛtyāya sa-putrāya
sa-kalatrāya te namaḥ
(CB Adi-khaṇḍa 1.2)
ānanda-līlā-maya-vigrahāya
hemābha-divyac-chavi-sundarāya
tasmai mahā-prema-rasa-pradāya
caitanya-candrāya namo namas te
(CB Madhya-khaṇḍa 28.200)
namo mahā-vadānyāya kṛṣṇa-prema-pradāya te
kṛṣṇāya kṛṣṇa-caitanya-nāmne gaura-tviṣe namaḥ
(Śrī Gaurāṅga Praṇāma)
yaṁ brahmā varuṇendra-rudra-marutaḥ stunvanti divyaiḥ stavair
vedaiḥ sāṅga-pada-kramopaniṣadair gāyanti yaṁ sāma-gāḥ
dhyānāvasthita-tad-gatena manasā paśyanti yaṁ yogino
yasyāntaṁ na viduḥ surāsura-gaṇā devāya tasmai namaḥ
he kṛṣṇa karuṇā-sindho dīna-bandho jagat-pate
gopeśa gopikā-kānta rādhā-kānta namo 'stu te
(Śrī Kṛṣṇa Praṇāma)
bhaja śrī-kṛṣṇa-caitanya
prabhu-nityānanda
śrī-advaita gadādhara
śrīvāsAdi-gaura-bhakta-vṛnda
(Paṣca-tattva Mahā-mantra)
hare kṛṣṇa hare kṛṣṇa kṛṣṇa kṛṣṇa hare hare
hare rāma hare rāma rāma rāma hare hare
jayatāṁ suratau paṅgor mama manda-mater gate
mat-sarvasva-padāmbhojau rādhā-madana-mohanau
(Sambandhādhideva Praṇāma)
dīvyad-vṛndāraṇya-kalpa-drumādhaḥ
śrīmad-ratnāgāra-siṁhāsana-sthau
śrī-śrī-rādhā-śrīla-govinda-devau
preṣṭhālībhiḥ sevyamānau smarāmi
(Abhidheyādhideva Praṇāma)
śrīmān rāsa-rasārambhī vaṁśī-vaṭa-taṭa-sthitaḥ
karṣan veṇu-svanair gopīr gopīnāthaḥśriye 'stu naḥ
(Prayojanādhideva Praṇāma)
hare kṛṣṇa hare kṛṣṇa kṛṣṇa kṛṣṇa hare hare
hare rāma hare rāma rāma rāma hare hare
On the subject—absolute truth and the yoga system. In continuation of the same subject matter. And just time to see, why Arjuna the great hero of Mahābhārata declined to accept this system. And Therefore today's subject matter is: Arjuna declines.
Now, Lord Śrī Kṛṣṇa while instructing on the yoga system to Arjuna. And he had only . . . (indistinct) . . . to the last point of realization. It is called samādhi. And the symptoms of such samādhi is explained in this way:
yatroparamate cittaṁ
niruddhaṁyoga-sevayā
yatra caivātmanātmānaṁ
paśyann ātmani tuṣyati
(BG 6.20)
Now by the progress of yoga one should appreciate. One should know himself. There is no necessity of recommendation by others, whether I am a great yogī or not. My advancement does not depend on the appreciation of others. But I must not cheat myself. I must not think myself as the Supreme Lord, without having the qualifications. That is a self-cheating process.
Now here it is said, yatroparamate cittaṁ, niruddhaṁyoga-sevayā. By yoga-sevayā, means by the practice of yoga one should find that he has no more disturbing mind for material hankerings. It is just like this, that a man, hungry man, is given foodstuff to eat. And if he eats properly and if the foodstuff is just to his taste. He will feel three things simultaneously. And what are those three things?
He will feel satisfaction, his hunger subsided, and he will feel strength, completely. He will feel satisfaction, good tasting food will give him satisfaction that I am eating something substantial. At the same time he will feel that my hunger is being gradually subsided. And the third thing, he will feel bodily strength. And out of this feeling . . . (break) (end)