680831 - Letter to Krishna dasa written from New York
From Vanisource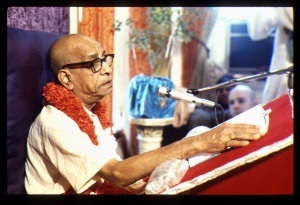 August 31, 1968

My Dear Krishna Das,
Please accept by blessings. I beg to acknowledge receipt of your letter of 8.25.68 and I am so pleased to look in you a Divine Spirit for preaching the K.C. movement. It is very welcome. So if you go to Germany and join Sivananda there who is already there, you can immediately open correspondence with him, his address being as follows.
If you can actually open a nice centre there it will be a great service to Lord Krishna. So you can make your solid plan in this connection & I am coming to San Francisco by the 1st week of September. This afternoon I am going to New York and I may stay there for one week & then start for San Francisco when I may talk further on this subject.
I understand your birthday is on the 26th September and I offer my blessings on this occasion. When I go to San Francisco, I shall give you the required letters. Just now I do not remember the body of the letter given to Upendra but I shall compose it again don't worry.
Your sister Srimati Saradia has gone to Boston. She is as nice as her nice brothers and she has expressed her desire to marry a nice boy. I agree with her proposal but I have asked her to wait for another year as she is too young.
When you start for Germany you must go there fully equipped with Mrdangas and other instruments. More when we meet. Hope you are well.
Your ever well wisher
A.C. Bhaktivedanta Swami
P.S. While I was to post this letter I have got a letter from Sivananda and his address is as follows: Open correspondence immediately and do the needful.
Samuel Greer
Jugenher bergen
Kluckstrasse 3
W. Berlin, Germany.
I am enclosing here with the letter which I have received from. Please keep this letter carefully and return me when I go to San Francisco.
ACB