680712 - Letter to Jayananda written from Montreal
From Vanisource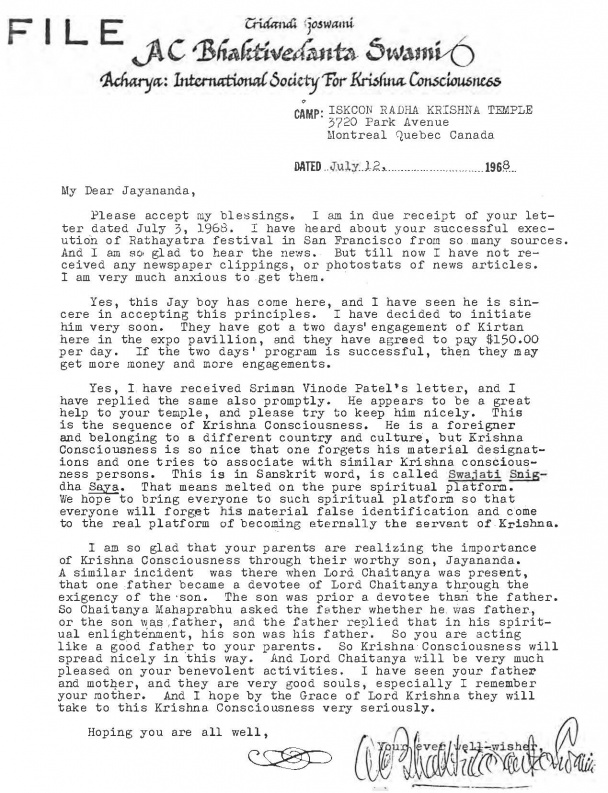 Tridandi Goswami
AC Bhaktivedanta Swami
Acharya: International Society For Krishna Consciousness

CAMP: ISKCON RADHA KRISHNA TEMPLE
          3720 Park Avenue
          Montreal, Quebec, Canada
DATED ..July..12,........................1968..

My Dear Jayananda,
Please accept my blessings. I am in due receipt of your letter dated July 3, 1968. I have heard about your successful execution of Rathayatra festival in San Francisco from so many sources. And I am so glad to hear the news. But till now I have not received any newspaper clippings, or photostats of news articles. I am very much anxious to get them.
Yes, this Jay boy has come here, and I have seen he is sincere in accepting this principles. I have decided to initiate him very soon. They have got a two days' engagement of Kirtan here in the expo pavilion, and they have agreed to pay $150.00 per day. If the two days' program is successful, then they may get more money and more engagements.
Yes, I have received Sriman Vinode Patel's letter, and I have replied the same also promptly. He appears to be a great help to your temple, and please try to keep him nicely. This is the sequence of Krishna Consciousness. He is a foreigner and belonging to a different country and culture, but Krishna Consciousness is so nice that one forgets his material designations and one tries to associate with similar Krishna consciousness persons. This is a Sanskrit word, is called Swajati Snigdha Saya. That means melted on the pure spiritual platform. We hope to bring everyone to such spiritual platform so that everyone will forget his material false identification and come to the real platform of becoming eternally the servant of Krishna.
I am so glad that your parents are realizing the importance of Krishna Consciousness through their worthy son, Jayananda. A similar incident was there when Lord Chaitanya was present, that one father became a devotee of Lord Chaitanya through the exigency of the son. The son was prior a devotee than the father. So Chaitanya Mahaprabhu asked the father whether he was father, or the son was father, and the father replied that in his spiritual enlightenment, his son was his father. So you are acting like a good father to your parents. So Krishna Consciousness will spread nicely in this way. And Lord Chaitanya will be very much pleased on your benevolent activities. I have seen your father and mother, and they are very good souls, especially I remember your mother. And I hope by the Grace of Lord Krishna they will take to this Krishna Consciousness very seriously.
Hoping you are all well,
Your ever well-wisher,