680704 - Letter to Balai written from Montreal
From Vanisource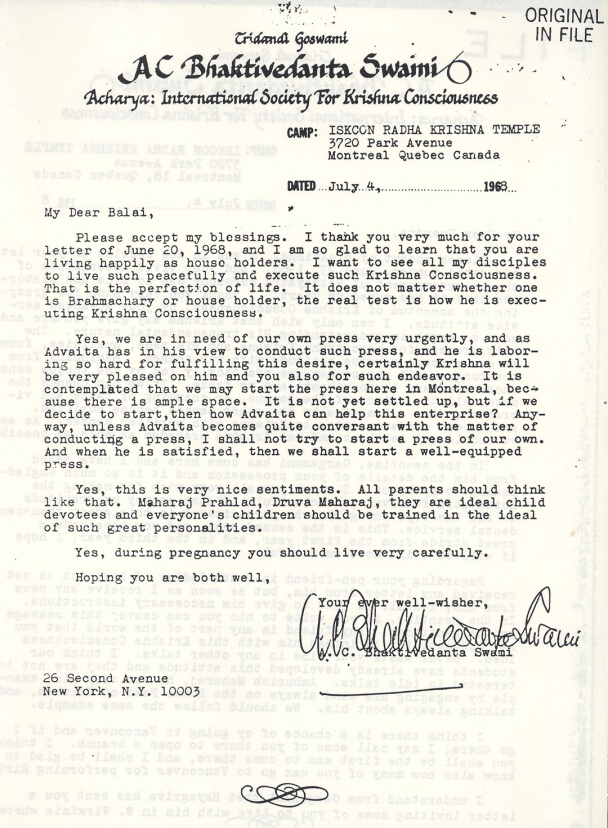 Tridandi Goswami
AC Bhaktivedanta Swami
Acharya: International Society For Krishna Consciousness
CAMP: ISKCON RADHA KRISHNA TEMPLE
          3720 Park Avenue
          Montreal Quebec Canada
DATED ..July...4,..................1968...

My Dear Balai,
Please accept my blessings. I thank you very much for your letter of June 20, 1968, and I am so glad to learn that you are living happily as householders. I want to see all my disciples to live such peacefully and execute such Krishna Consciousness. That is the perfection of life. It does not matter whether one is Brahmacary or householder, the real test is how he is executing Krishna Consciousness.
Yes, we are in need of our own press very urgently, and as Advaita has in his view to conduct such press, and he is laboring so hard for fulfilling this desire, certainly Krishna will be very pleased on him and you also for such endeavor. It is contemplated that we may start the press here in Montreal, because there is ample space. It is not yet settled up, but if we decide to start, then how Advaita can help this enterprise? Anyway, unless Advaita becomes quite conversant with the matter of conducting a press, I shall not try to start a press of our own. And when he is satisfied, then we shall start a well-equipped press.
Yes, this is very nice sentiments. All parents should think like that. Maharaj Prahlad, Dhruva Maharaj, they are ideal child devotees and everyone's children should be trained in the ideal of such great personalities.
Yes, during pregnancy you should live very carefully.
Hoping you are both well,

Your ever well-wisher,



A.C. Bhaktivedanta Swami


26 Second Avenue
New York, N.Y. 10003