680531 - Letter to Gargamuni written from Boston
From Vanisource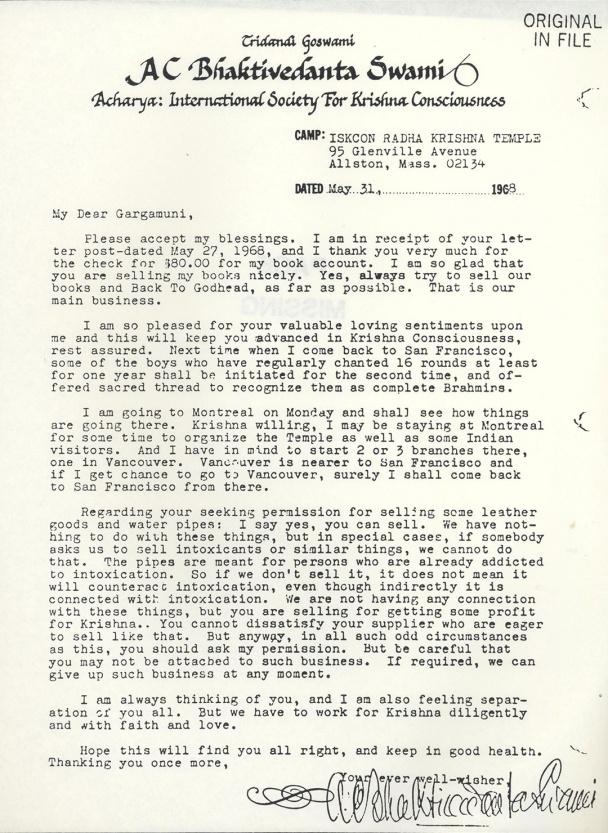 Tridandi Goswami
AC Bhaktivedanta Swami
Acharya: International Society For Krishna Consciousness

CAMP: ISKCON RADHA KRISHNA TEMPLE
          95 Glenville Avenue
          Allston, Mass. 02134
DATED May...31,.................1968...

My Dear Gargamuni,
Please accept my blessings. I am in receipt of your letter post-dated May 27, 1968, and I thank you very much for the check for $80.00 for my book account. I am so glad that you are selling my books nicely. Yes, always try to sell our books and Back To Godhead, as far as possible. That is our main business.
I am so pleased for your valuable loving sentiments upon me and this will keep you advanced in Krishna Consciousness, rest assured. Next time when I come back to San Francisco, some of the boys who have regularly chanted 16 rounds at least for one year shall be initiated for the second time, and offered sacred thread to recognize them as complete Brahmins.
I am going to Montreal on Monday and shall see how things are going there. Krishna willing, I may be staying at Montreal for some time to organize the Temple as well as some Indian visitors. And I have in mind to start 2 or 3 branches there, one in Vancouver. Vancouver is nearer to San Francisco and if I get chance to go to Vancouver, surely I shall come back to San Francisco from there.
Regarding your seeking permission for selling some leather goods and water pipes: I say yes, you can sell. We have nothing to do with these things, but in special cases, if somebody asks us to sell intoxicants or similar things, we cannot do that. The pipes are meant for persons who are already addicted to intoxication. So if we don't sell it, it does not mean it will counteract intoxication, even though indirectly it is connected with intoxication. We are not having any connection with these things, but you are selling for getting some profit for Krishna. You cannot dissatisfy your supplier who are eager to sell like that. But anyway, in all such odd circumstances as this, you should ask my permission. But be careful that you may not be attached to such business. If required, we can give up such business at any moment.
I am always thinking of you, and I am also feeling separation of you all. But we have to work for Krishna diligently and with faith and love.
Hope this will find you all right, and keep in good health.
Thanking you once more,
Your ever well-wisher,