680517 - Letter to Gosainji written from Boston
From Vanisource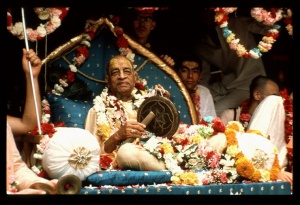 May 17, 1968

My Dear Gosainji,
Please accept my greetings. Since I have come back to USA I have not heard anything from you. I hope everything is well with you. I am very much anxious to know about the litigations amongst yourselves. If you have no objections, you can let me know what the present position is. In my humble opinion I may say that instead of wasting your money and energy in the matter of litigation between yourselves, you shall now make a constructive program to develop the Seva-Puja establishment of Sri Sri Radha-Damodara Jeu. When you invited me from Kesi Ghat to the shelter Radha-Damodara Jeu, it was very kind of you. And at that time, both yourself and Nripen Babu of Kanpur agreed to give me the vacant lands adjoining the temple on leased terms. I hope you will remember this and I think in my files I have got letters of confirmations from both of you, namely, yourself and Nripen Babu. Later on situation became different, and the proposal could not be given any practical shape. I entered Sri Sri Radha-Damodara Jeu Temple with a desire to develop the position of the Temple in a very attractive way, but the prospect is being checked at the present position on account of both you and Nripen Babu being entangled in litigation. I am getting old day by day, and I do not know when the last moment will come, but before the last moment will come, I wanted to fulfill my desire in the matter of developing the establishment of Sri Sri Radha-Damodara Temple. I therefore request both of you to come to an agreement and let us join together in the service of the Lord.
I hope this will find you in good health, with my good wishes for Ma Gosain Panchu, and other members of your family.
I am going to Montreal, Canada, by the first week of June, and my Montreal address is as following: ISKCON RADHA KRISHNA TEMPLE; 3720 Park Avenue; Montreal 18, Quebec, Canada. If you reply this letter earlier than the first of June, you can address me at the above Boston address, otherwise, you can address me at my above mentioned Montreal address.
Hope this meets you all right.
Yours in the service of the Lord,
A.C. Bhaktivedanta Swami
P.S. My disciple, Sriman Acyutananda Brahmacari, is now working in Delhi; and I hope he sometimes comes to see you and the Temple from Delhi.