680402 - Letter to Satsvarupa written from San Francisco
From Vanisource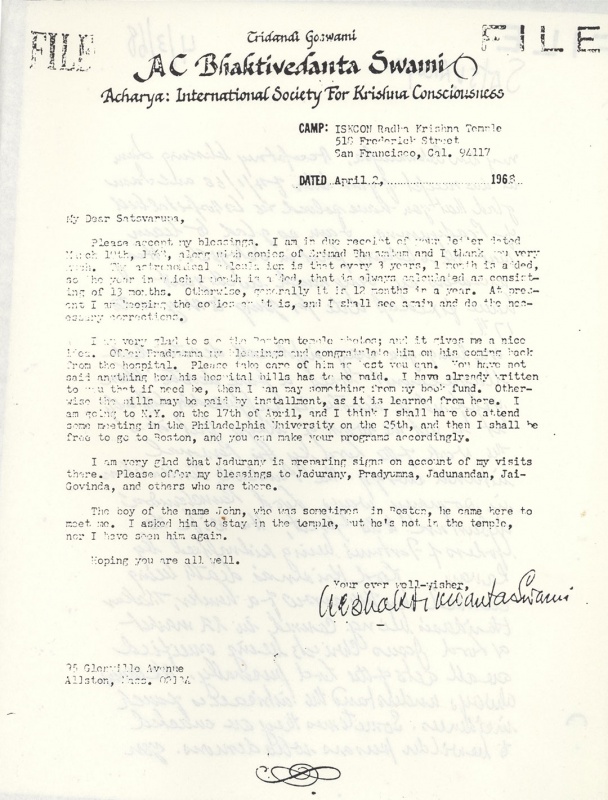 Tridandi Goswami
AC Bhaktivedanta Swami
Acharya: International Society For Krishna Consciousness


CAMP: ISKCON Radha Krishna Temple
          518 Frederick Street
          San Francisco, Cal. 94117
DATED ..April.2,.....................1968..



My Dear Satsvarupa,
Please accept my blessings. I am in due receipt of your letter dated March 19th, 1968, along with copies of Srimad Bhagwatam and I thank you very much. The astronomical calculation is that every 3 years, 1 month is added, so the year in which 1 month is added, that is always calculated as consisting of 13 months. Otherwise, generally it is 12 months in a year. At present I am keeping the copies as it is, and I shall see again and do the necessary corrections.
I am very glad to see the Boston temple photos; and it gives me a nice idea. Offer Pradyumna my blessings and congratulate him on his coming back from the hospital. Please take care of him as best you can. You have not said anything how his hospital bills has to be paid. I have already written to you that if need be, then I can pay something from my book fund. Otherwise the bills may be paid by installment, as it is learned from here. I am going to N.Y. on the 17th of April, and I think I shall have to attend some meeting in the Philadelphia University on the 25th, and then I shall be free to go to Boston, and you can make your programs accordingly.
I am very glad that Jadurany is preparing signs on account of my visits there. Please offer my blessings to Jadurany Pradyumna, Jadunandan, Jai Govinda, and others who are there.
The boy of the name John, who was sometimes in Boston, he came here to meet me. I asked him to stay in the temple, but he's not in the temple, nor I have seen him again.
Hoping you are all well.

Your ever well-wisher,






95 Glenville Avenue
Allston, Mass. 02134