680113 - Letter to Andrea Temple written from Los Angeles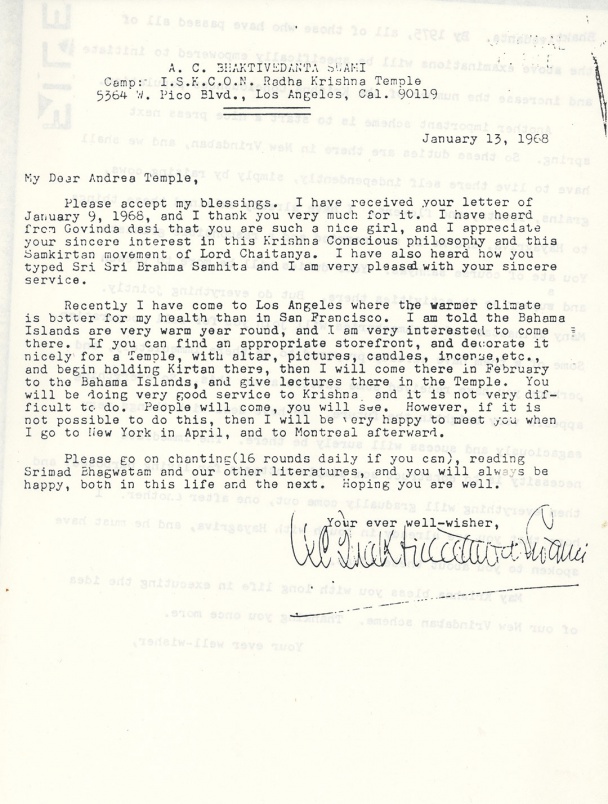 A.C. BHAKTIVEDANTA SWAMI
Camp: I.S.K.C.O.N. Radha Krishna Temple
5364 W. Pico Blvd., Los Angeles, Cal. 90119

January 13, 1968


My Dear Andrea Temple,
Please accept my blessings. I have received your letter of January 9, 1968, and I thank you very much for it. I have heard from Govinda dasi that you are such a nice girl, and I appreciate your sincere interest in this Krishna Conscious philosophy and this Samkirtan movement of Lord Chaitanya. I have also heard how you typed Sri Sri Brahma Samhita and I am very pleased with your sincere service.
Recently I have come to Los Angeles where the warmer climate is better for my health than in San Francisco. I am told the Bahama Islands are very warm year round, and I am very interested to come there. If you can find an appropriate storefront, and decorate it nicely for a Temple, with altar, pictures, candles, incense, etc., and begin holding Kirtan there, then I will come there in February to the Bahama Islands, and give lectures there in the Temple. You will be doing very good service to Krishna, and it is not very difficult to do. People will come, you will see. However, if it is not possible to do this, then I will be very happy to meet you when I go to New York in April, and to Montreal afterward.
Please go on chanting (16 rounds daily if you can), reading Srimad Bhagwatam and our other literatures, and you will always be happy, both in this life and the next. Hoping you are well.