671221 - Letter to Brahmananda written from San Francisco
From Vanisource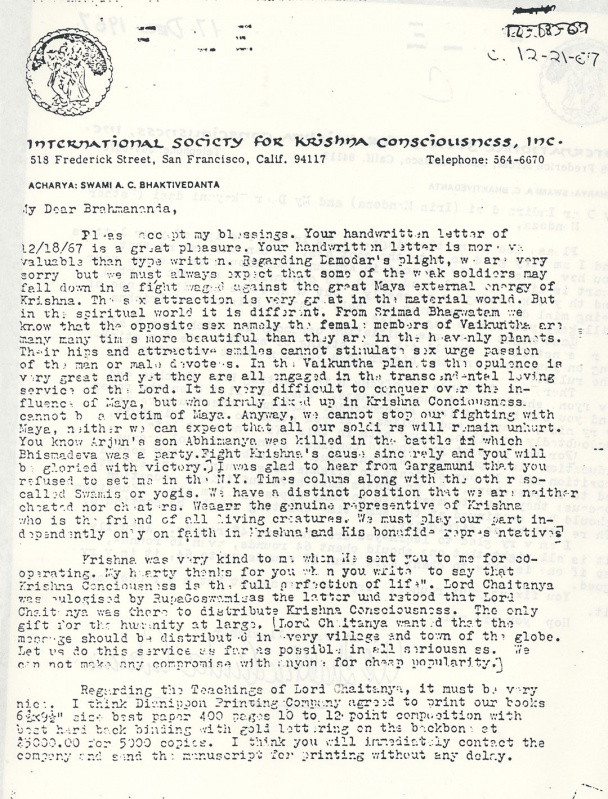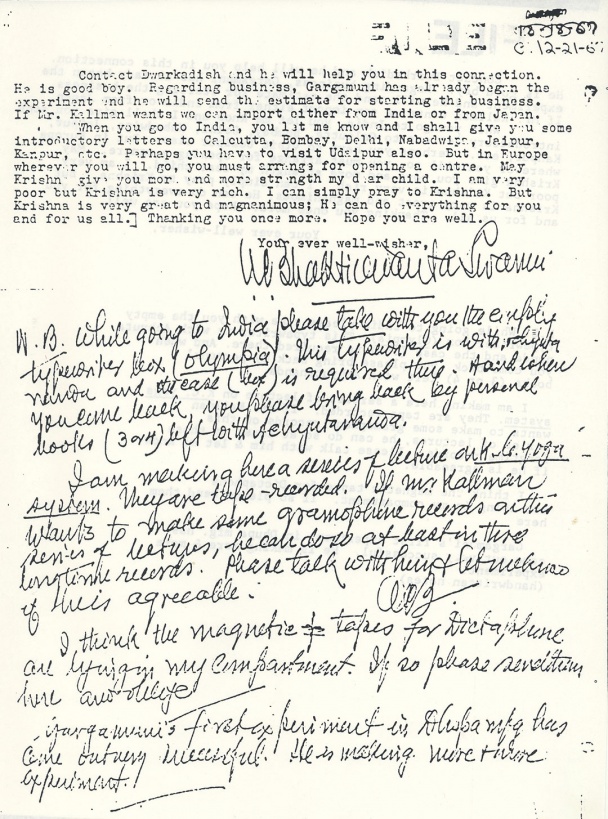 12-21-67 [handwritten]


INTERNATIONAL SOCIETY FOR KRISHNA CONSCIOUSNESS, INC.
518 Frederick Street, San Francisco. Calif 94117                       Telephone:564-6670
ACHARYA:SWAMI A.C. BHAKTIVEDANTA
My Dear Brahmananda,
Please accept my blessings. Your handwritten letter of 12/18/67 is a great pleasure. Your handwritten letter is more valuable than type written. Regarding Damodar's plight, we are very sorry but we must always expect that some of the weak soldiers may fall down in a fight waged against the great Maya external energy of Krishna. The sex attraction is very great in the material world. But in the spiritual world it is different. From Srimad Bhagwatam we know that the opposite sex namely the female members of Vaikuntha are many many times more beautiful than they are in the heavenly planets. Their hips and attractive smiles cannot stimulate sex urge passion of the man or male devotees. In the Vaikuntha planets the opulence is very great and yet they are all engaged in the transcendental loving service of the Lord. It is very difficult to conquer over the influence of Maya, but who firmly fixed up in Krishna Consciousness cannot be a victim of Maya. Anyway, we cannot stop our fighting with Maya, neither we can expect that all our soldiers will remain unhurt. You know Arjuna's son Abhimanya was killed in the battle in which Bhismadeva was a party. Fight Krishna's cause sincerely and you will be gloried with victory. I was glad to hear from Gargamuni that you refused to set me in the N.Y. Times columns along with the other so called Swamis or yogis. We have a distinct position that we are neither cheated nor cheaters. We are the genuine representative of Krishna who is the friend of all living creatures. We must play our part independently only on faith in Krishna and His bonafide representatives.
Krishna was very kind to me when He sent you to me for cooperating. My hearty thanks for you when you write to say that "Krishna Consciousness is the full perfection of life". Lord Chaitanya was eulogized by Rupa Goswami as the latter understood that Lord Chaitanya was there to distribute Krishna Consciousness. The only gift for the humanity at large. Lord Chaitanya wanted that the message should be distributed in every village and town of the globe. Let us do this service as far as possible in all seriousness. We can not make any compromise with anyone for cheap popularity.
Regarding the Teachings of Lord Chaitanya, it must be very nice. I think Dai Nippon Printing Company agreed to print our books 6 1/2" x 9 1/2" size best paper 400 pages 10 to 12 point composition with best hard back binding with gold lettering on the backbone at $5000.00 for 5000 copies. I think you will immediately contact the company and send the manuscript for printing without any delay.
Contact Dwarkadish and he will help you in this connection. He is good boy. Regarding business, Gargamuni has already began the experiment and he will send the estimate for starting the business. If Mr. Kallman wants we can import either from India or from Japan.
When you go to India, you let me know and I shall give you some introductory letters to Calcutta, Bombay, Delhi, Nabadwipa, Jaipur, Kanpur, etc. Perhaps you have to visit Udaipur also. But in Europe wherever you will go, you must arrange for opening a centre. May Krishna give you more and more strength my dear child. I am very poor but Krishna is very rich. I can simply pray to Krishna. But Krishna is very great and magnanimous; He can do everything for you and for us all. Thanking you once more. Hope you are well.
Your ever well-wisher,


[all handwritten] N.B. While going to India please take with you the empty typewriter box (Olympia). This typewriter is with Achyutananda and the case (box) is required there. And when you come back, you please bring back my personal books (3 or 4) left with Achyutananda.
I am making here a series of lecture on K.C. yoga system. They are tape recorded. If Mr. Kallman wants to make some gramophone records on this series of lectures, he can do so at least in those long time records. Please talk with him and let me know if he is agreeable.
     

I think the magnetic tapes for Dictaphone are lying in my compartment. If so please send them here and oblige.
Gargamuni's first experiment in Dhupa mfg. has come out very successful. He is making more & more experiment.