Radharani

Krishna

Caitanya

God

God's Holy Names

Krishna Consciousness Movement

Who Is Srila Prabhupada

his Timeline

Months in his Life

Training his Disciples

Questions

Bhagavad-gita

Devotees of God

Devotional Service to God

Discipleship

Guru / Acharya

Essential Subjects

Nectar Drops

What's in Vanipedia now

Glorious Personalities

Yoga

Collaborate with us to invoke and fully manifest Srila Prabhupada's Vani-presence.
---
671208 - Letter to Mukunda written from Calcutta
From Vanisource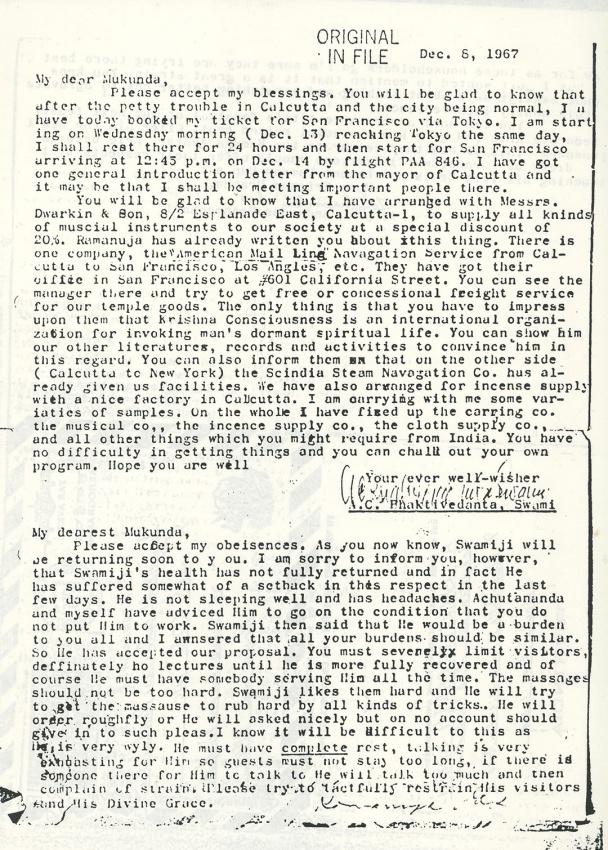 Dec. 8, 1967

My Dear Mukunda,
Please accept my blessings. You will be glad to know that after the petty trouble in Calcutta and the city being normal, I have today booked my ticket for San Francisco via Tokyo. I am starting on Wednesday morning (Dec. 13) reaching Tokyo the same day. I shall rest there for 24 hours and then start for San Francisco arriving at 12:45 p.m. on Dec. 14 by flight PAA 846. I have got one general introduction letter from the mayor of Calcutta and it may be that I shall be meeting important people there.
You will be glad to know that I have arranged with Messrs. Dwarkin & Son, 8/2 Esplanade East, Calcutta-1, to supply all kinds of musical instruments to our society at a special discount of 20%. Ramanuja has already written you about this thing. There is one company, the "American Mail Line" Navigation Service from Calcutta to San Francisco, Los Angeles, etc. They have got their office in San Francisco at #601 California Street. You can see the manager there and try to get free or concessional freight service for our temple goods. The only thing is that you have to impress upon them that Krishna Consciousness is an international organization for invoking man's dormant spiritual life. You can show him our other literatures, records and activities to convince him in this regard. You can also inform them that on the other side (Calcutta to New York) the Scindia Steam Navigation Co. has already given us facilities. We have also arranged for incense supply with a nice factory in Calcutta. I am carrying with me some varieties of samples. On the whole I have fixed up the carrying co., the musical co., the incense supply co., the cloth supply co., and all other things which you might require from India. You have no difficulty in getting things and you can chalk out your own program. Hope you are well.
Your ever well-wisher
[signed]
A.C. Bhaktivedanta, Swami