Radharani

Krishna

Caitanya

God

God's Holy Names

Krishna Consciousness Movement

Who Is Srila Prabhupada

his Timeline

Months in his Life

Training his Disciples

Questions

Bhagavad-gita

Devotees of God

Devotional Service to God

Discipleship

Guru / Acharya

Essential Subjects

Nectar Drops

What's in Vanipedia now

Glorious Personalities

Yoga

Collaborate with us to invoke and fully manifest Srila Prabhupada's Vani-presence.
---
671123 - Letter to Rayarama written from Calcutta
From Vanisource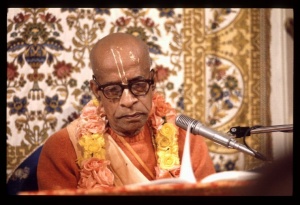 November 23, 1967
My Dear Rayarama,
Please accept my blessings. I am in due receipt of your letter Nov. 19, 1967 and I am sending by air mail the purports of verses 16-28 of the Ninth chapter. Please set them nicely and at the end if you add the general purport which you have written, I have no objections. My return to your country is already settled. My ticket was booked for starting on 23rd Nov. but due to certain political strike my starting has been held up. I think that everything will be alright by the end of this week and I may start by Monday next via Japan.
You may not write anything to Miss Bowtell. I think she will not be helpful in our scheme. The best thing is that you finish up the Gita Upanisad hand it over to Messrs. MacMillan Co. and then make practical progress to start for England. Certainly I shall be in need of your assistance in finishing Srimad-Bhagavatam. On my return I shall make practical progress so that both of us may go on compiling Srimad-Bhagavatam and opening different centers in all parts of the world simultaneously. We are completely dependent on the Supreme will of Krishna. Let us try our best to serve Him and He will give us all facilities in our mission. Our San Francisco friends may be very anxious because I sent them two telegrams, one informing of my arrival and the other cancelling it. You can inform them of the real position as you understand by this letter. The booklets which you have sent are very much appreciated. Printing and painting are our life back bone. Our nice Guru who have been sent to us by Krishna are trying their best and I am sure we shall be successful. More when we meet. Hope you are well. Convey my blessings to all prabhus.
Your ever well-wisher,
A.C. Bhaktivedanta Swami