671007 - Letter to Mukunda written from Delhi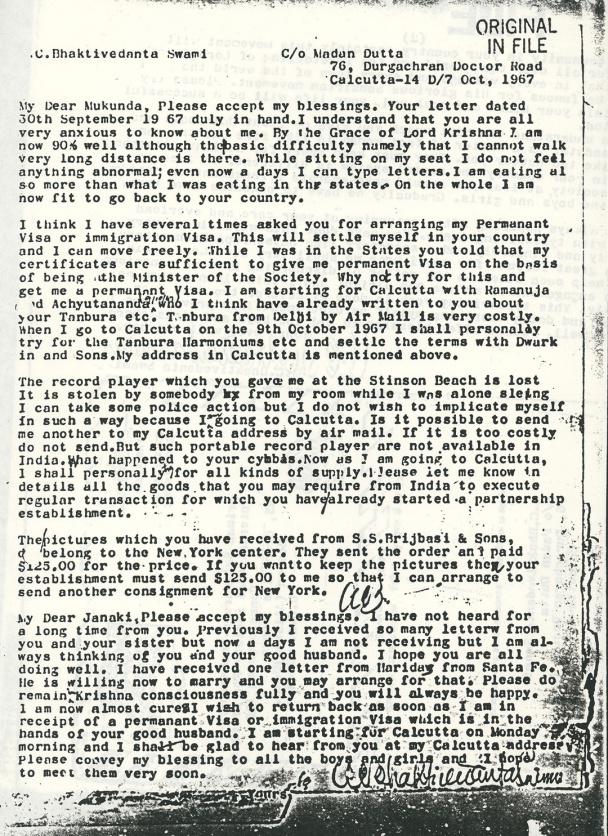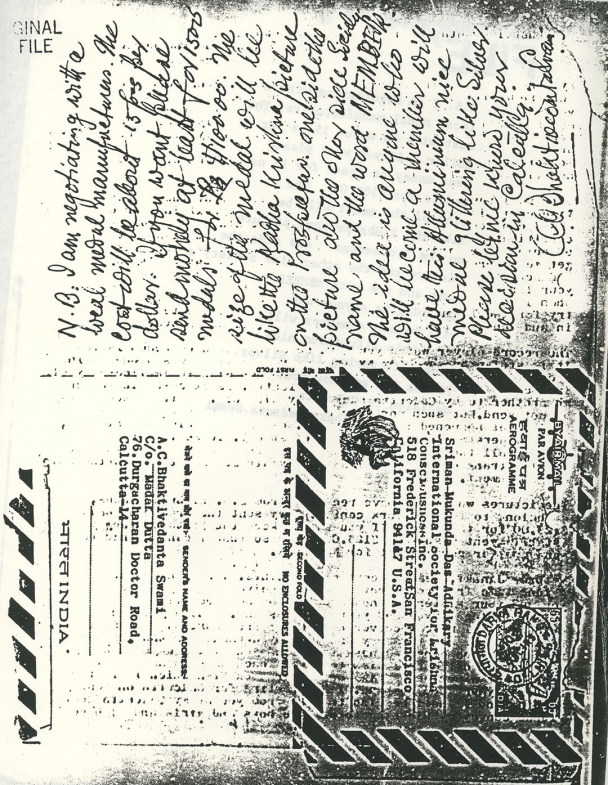 A.C. Bhaktivedanta Swami
C/o Madan Dutta
76, Durgacharan Doctor Road
Calcutta-14 D/7 Oct, 1967

My Dear Mukunda, Please accept my blessings. Your letter dated 30th September 1967 duly in hand. I understand that you are all very anxious to know about me. By the Grace of Lord Krishna I am now 90% well although the basic difficulty namely that I cannot walk very long distance is there. While sitting on my seat I do not feel anything abnormal; even nowadays I can type letters. I am eating also more than what I was eating in the states. On the whole I am now fit to go back to your country.
I think I have several times asked you for arranging my Permanent Visa or immigration Visa. This will settle myself in your country and I can move freely. While I was in the States you told that my certificates are sufficient to give me permanent Visa on the basis of being the Minister of the Society. Why not try for this and get me a permanent Visa. I am starting for Calcutta with Ramanuja and Acyutananda (9/10/67) [handwritten] who I think have already written to you about your Tanbura etc. Tanbura from Delhi by Air Mail is very costly. When I go to Calcutta on the 9th October 1967 I shall personally try for the Tanbura Harmoniums etc and settle the terms with Dwarkin and Sons. My address in Calcutta is mentioned above.
The record player which you gave me at the Stinson Beach is lost. It is stolen by somebody from my room while I was alone sleeping. I can take some police action but I do not wish to implicate myself in such a way because I am going to Calcutta. Is it possible to send me another to my Calcutta address by air mail. If it is too costly do not send. But such portable record players are not available in India. What happened to your cymbals. Now as I am going to Calcutta, I shall personally try [handwritten] for all kinds of supply. Please let me know in details all the goods that you may require from India to execute regular transaction for which you have already started a partnership establishment.
The pictures which you have received from S.S. Brijbasi & Sons, belong to the New York center. They sent the order and paid $125.00 for the price. If you want to keep the pictures then your establishment must send $125.00 to me so that I can arrange to send another consignment for New York.
     


Sriman Mukunda Das Adhikary
International Society for Krishna
Consciousness Inc.
518 Frederick Street, San Francisco
California 94117 U.S.A.

A.C. Bhaktivedanta Swami
C/o. Madan Dutta
76. Durgacharan Doctor Road,
Calcutta-14
INDIA