670701 - Letter to Sripad Narayana Maharaja written from New York
From Vanisource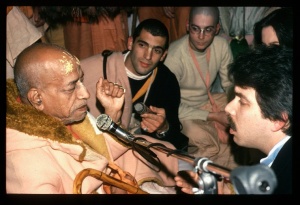 July 01, 1967

26 Second Avenue
Apartment BIR
New York 10003 USA
Sripad Narayana Maharaja,
Gradually I am becoming well. Today is my best day which is why I am writing you a letter in my own hand. I still have not received a reply to the letter I sent you on June 14th. I am very eagerly waiting to know if you have been to Delhi and if the books were sent or not. In the meantime I have written a letter to Vinoda Kumara. I haven't received any reply from him. I am worried about that also. As soon as you receive my letter, please kindly reply to me.
It is decided that I am going to San Francisco on Wednesday 5th July, and on July 9th there will be Sri Sri Jagannatha Deva Rathayatra maha festival. I don't know how successful it will be, but the program is settled. There were some plans for my return to India, but at present it is not possible for me to travel twenty-four hours by airplane. I am therefore going to San Francisco which takes only six hours. It has been decided that I will stay on the beach by the sea. As soon as you receive my letter, please reply to the following address:
International Society for Krishna Consciousness,
518 Frederick Street,
California 94117
What happened to Vinoda Kumara's passport? I have written him a separate letter, but there has been no reply so far. In this far away foreign country, with a very weak body, I feel some difficulty if I don't receive letters on time. I still don't feel fully strong, but I am writing to you in my own hand. I hope you will make me happy by responding as soon as you receive my letter. The work I have at hand will take two to three months to finish. I hope that by next September I may be able to return to India. If I obtain all of your blessings, I hope I will quickly finish my work and be able to return to Sri Sri Vrndavana dhama. I pray you all are well.
Vasamvad
(Gratefully),
A.C Bhaktivedanta Swami
©Gaudiya Vedanta Publications CC-BY-ND