Radharani

Krishna

Caitanya

God

God's Holy Names

Krishna Consciousness Movement

Who Is Srila Prabhupada

his Timeline

Months in his Life

Training his Disciples

Questions

Bhagavad-gita

Devotees of God

Devotional Service to God

Discipleship

Guru / Acharya

Essential Subjects

Nectar Drops

What's in Vanipedia now

Glorious Personalities

Yoga

Collaborate with us to invoke and fully manifest Srila Prabhupada's Vani-presence.
---
670506 - Letter to Hayagriva written from New York
From Vanisource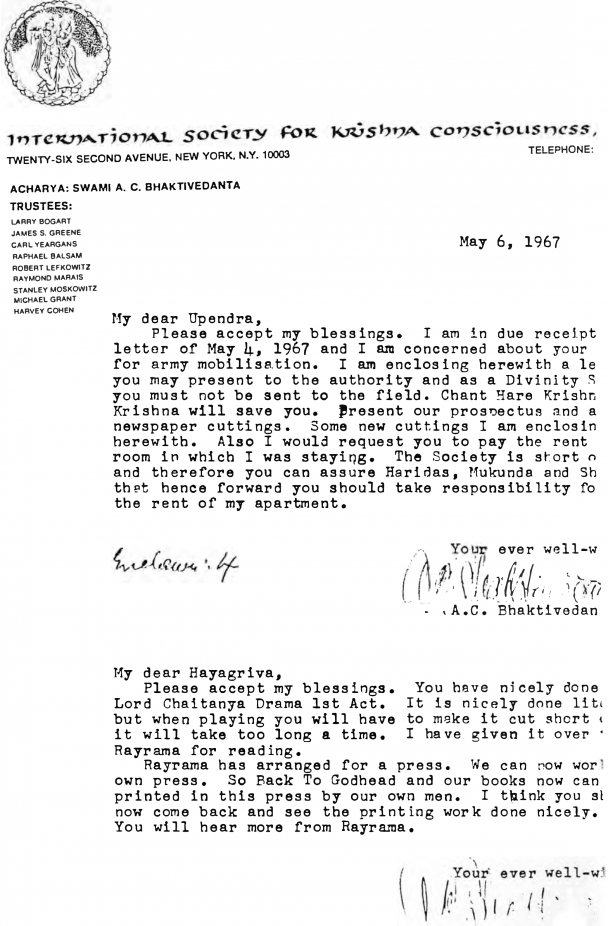 INTERNATIONAL SOCIETY FOR KRISHNA CONSCIOUSNESS, INC.
TWENTY SIX-SECOND AVENUE NEW YORK N.Y.10003               Telephone:674-7428

ACHARYA:SWAMI A.C. BHAKTIVEDANTA
TRUSTEES:
Larry Bogart
James S. Greene
Carl Yeargans
Raphael Balsam
Robert Lefkowitz
Raymond Marais
Stanley Mogkowitz
Michael Grant
Harvey Cohen

May 06, 1967

My Dear Hayagriva,
Please accept my blessings. You have nicely done ____ Lord Cahitanya Drama 1st Act. It is nicely done literature but when playing you will have to make it cut short otherwise it will take too long a time. I have given it over to Rayarama for reading.
Rayarama has arranged for a press. We can now work our own press. So Back To Godhead and our books now can be printed in this press by our own men. I think you should now come back and see the printing work done nicely. You will hear more from Rayarama.
Your ever well-wisher,
[signed]
A.C. Bhaktivedanta Swami