670504 - Letter to Syamasundara written from New York
From Vanisource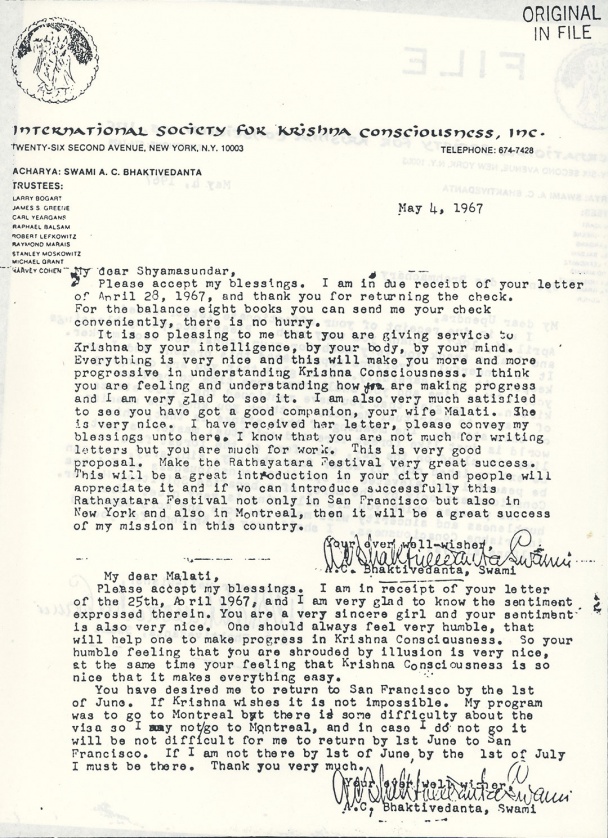 INTERNATIONAL SOCIETY FOR KRISHNA CONSCIOUSNESS, INC.
TWENTY SIX-SECOND AVENUE NEW YORK N.Y.10003
Telephone:674-7428
ACHARYA:SWAMI A.C. BHAKTIVEDANTA
TRUSTEES:
Larry Bogart
James S. Greene
Carl Yeargans
Raphael Balsam
Robert Lefkowitz
Raymond Marais
Stanley Mogkowitz
Michael Grant
Harvey Cohen
May 4, 1967
My Dear Shyamasundar,
Please accept my blessings. I am in due receipt of your letter of April 28, 1967, and thank you for returning the check. For the balance eight books you can send me your check conveniently, there is no hurry.
It is so pleasing to me that you are giving service to Krishna by your intelligence, by your body, by your mind. Everything is very nice and this will make you more and more progressive in understanding Krishna Consciousness. I think you are feeling and understanding how you are making progress and I am very glad to see it. I am also very much satisfied to see you have got a good companion, your wife Malati. She is very nice. I have received her letter, please convey my blessings unto her. I know that you are not much for writing letters but you are much for work. This is very good proposal. Make the Rathayatra Festival very great success. This will be a great introduction in your city and people will appreciate it and if we can introduce successfully this Rathayatra Festival not only in San Francisco but also in New York and also in Montreal, then it will be a great success of my mission in this country.