670330 - Letter to Rayarama and Satsvarupa written from San Francisco
From Vanisource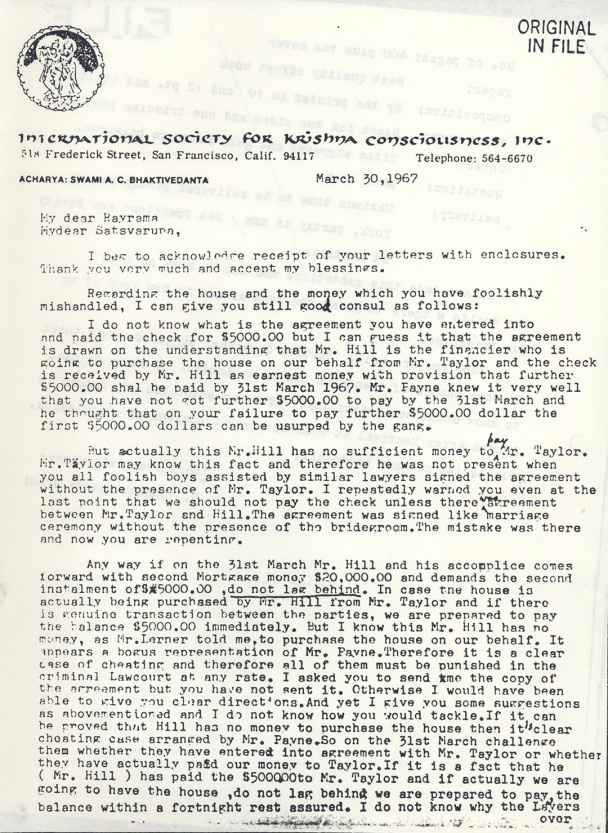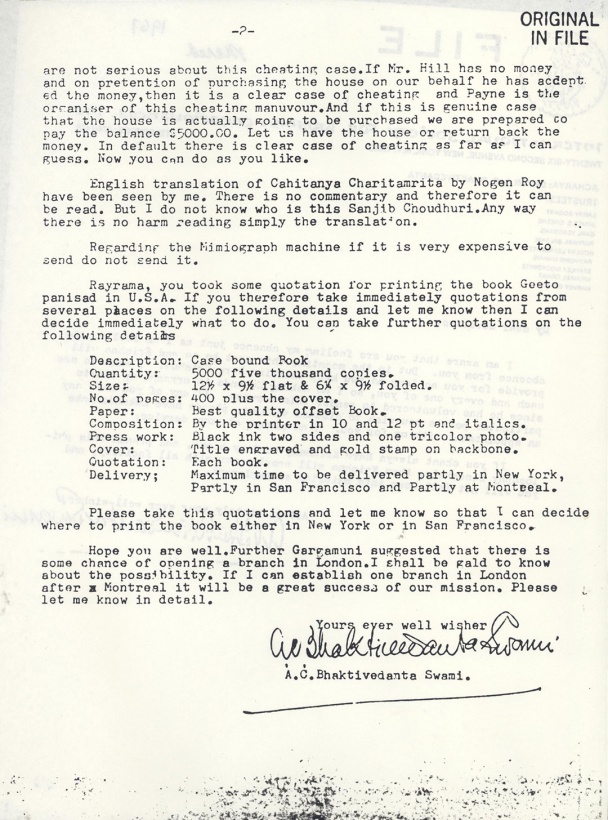 INTERNATIONAL SOCIETY FOR KRISHNA CONSCIOUSNESS, INC.
518 Frederick Street, San Francisco. Calif 94117                     Telephone: 564-6670
March 30, 1967
ACHARYA:SWAMI A.C. BHAKTIVEDANTA

My dear Rayrama
My dear Satsvarupa,
I beg to acknowledge receipt of your letters with enclosures. Thank you very much and accept my blessings.
Regarding the house and the money which you have foolishly mishandled, I can give you still good counsel as follows:
I do not know what is the agreement you have entered into and paid the check for $5000.00 but I can guess it that the agreement is drawn on the understanding that Mr. Hill is the financier who is going to purchase the house on our behalf from Mr. Taylor and the check is received by Mr. Hill as earnest money with provision that further $5000.00 shall be paid by 31st March 1967. Mr. Payne knew it very well that you have not got further $5000.00 to pay by the 31st March and he thought that on your failure to pay further $5000.00 dollar the first $5000.00 dollars can be usurped by the gang.
But actually this Mr. Hill has no sufficient money to pay [handwritten] Mr. Taylor. Mr. Taylor may know this fact and therefore he was not present when you all foolish boys assisted by similar lawyers signed the agreement without the presence of Mr. Taylor. I repeatedly warned you even at the last point that we should not pay the check unless there was [handwritten] agreement between Mr. Taylor and Hill. The agreement was signed like marriage ceremony without the presence of the bridegroom. The mistake was there and now you are repenting.
Any way if on the 31st March Mr. Hill and his accomplice comes forward with second Mortgage money $20,000.00 and demands the second installment of $5000.00, do not lag behind. In case the house is actually being purchased by Mr. Hill from Mr. Taylor and if there is genuine transaction between the parties, we are prepared to pay the balance $5000.00 immediately. But I know this Mr. Hill has no money, as Mr. Lerner told me, to purchase the house on our behalf. It appears a bogus representation of Mr. Payne. Therefore it is a clear case of cheating and therefore all of them must be punished in the criminal Law court at any rate. I asked you to send me the copy of the agreement but you have not sent it. Otherwise I would have been able to give you clear directions. And yet I give you some suggestions as above mentioned and I do not know how you would tackle. If it can be proved that Hill has no money to purchase the house then it is clear cheating case arranged by Mr. Payne. So on the 31st March challenge them whether they have entered into agreement with Mr. Taylor or whether they have actually paid our money to Taylor. If it is a fact that he (Mr. Hill) has paid the $5000.00 to Mr. Taylor and if actually we are going to have the house, do not lag behind, we are prepared to pay the balance within a fortnight rest assured. I do not know why the Lawyers
are not serious about this cheating case. If Mr. Hill has no money and on pretention of purchasing the house on our behalf he has accepted the money, then it is a clear case of cheating and Payne is the organiser of this cheating manouver. And if this is genuine case that the house is actually going to be purchased we are prepared to pay the balance $5000.00. Let us have the house or return back the money. In default there is clear case of cheating as far as I can guess. Now you can do as you like.
English translation of Chaitanya Charitamrta by Nogen Roy have been seen by me. There is no commentary and therefore it can be read. But I do not know who is this Sanjib Choudhuri. Any way there is no harm reading simply the translation.
Regarding the Mimeograph machine if it is very expensive to send do not send it.
Rayrama, you took some quotation for printing the book Geetopanisad in U.S.A. If you therefore take immediately quotations from several places on the following details and let me know then I can decide immediately what to do. You can take further quotations on the following details:
Description: Case bound Book
Quantity:       5000 five thousand copies.
Size:             12 1/2 x 9 1/2 flat & 6 1/4 x 9 1/2 folded.
No. of pages: 400 plus the cover.
Paper:           Best quality offset Book.
Composition: By the printer in 10 and 12 pt and italics.
Press work:   Black ink two sides and one tricolor photo.
Cover:           Title engraved and gold stamp on backbone.
Quotation:     Each book.
Delivery:       Maximum time to be delivered partly in New York, partly in San Francisco and Partly at Montreal.
Please take this quotations and let me know so that I can decide where to print the book either in New York or in San Francisco.
Hope you are well. Further Gargamuni suggested that there is some chance of opening a branch in London. I shall be glad to know about the possibility. If I can establish one branch in London after Montreal it will be a great success of our mission. Please let me know in detail.