670316 - Letter to Rayarama written from San Francisco
From Vanisource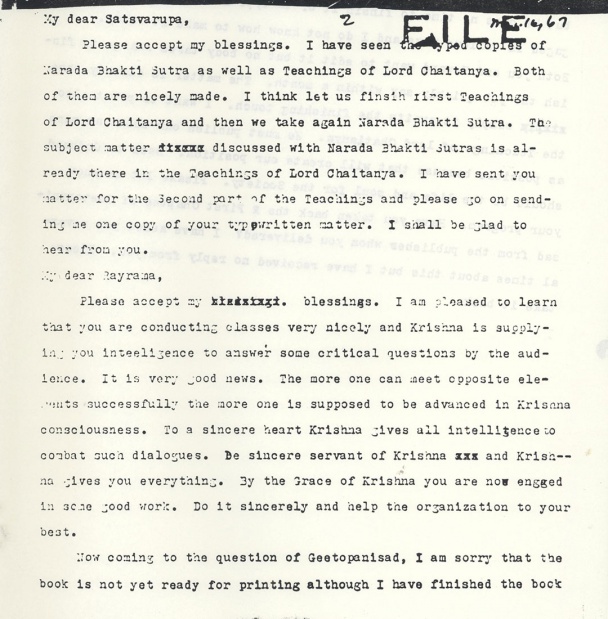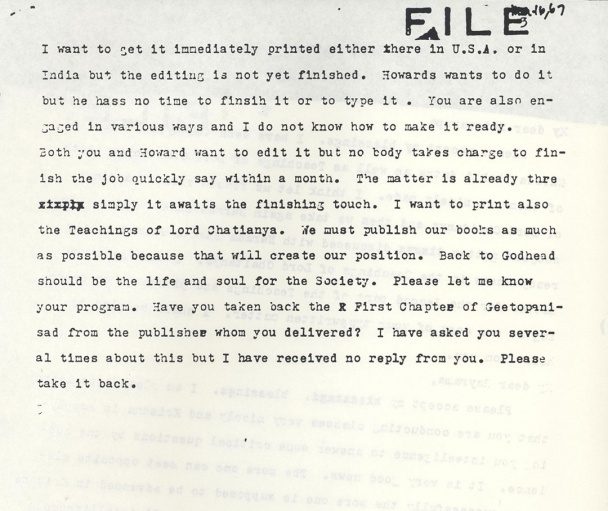 Mar. 16,67
My Dear Rayrama,
Please accept my blessings. I am pleased to learn that you are conducting classes very nicely and Krishna is supplying you intelligence to answer some critical questions by the audience. It is very good news. The more one can meet opposite elements successfully the more one is supposed to be advanced in Krishna consciousness. To a sincere heart Krishna gives all intelligence to combat such dialogues. Be sincere servant of Krishna and Krishna gives you everything. By the Grace of Krishna you are now engaged in some good work. Do it sincerely and help the organization to your best.
Now coming to the question of Geetopanisad, I am sorry that the book is not yet ready for printing although I have finished the book
I want to get it immediately printed either there in U.S.A. or in India but the editing is not yet finished. Howard wants to do it but he has no time to finish it or to type it. You are also engaged in various ways and I do not know how to make it ready. Both you and Howard want to edit it but nobody takes charge to finish the job quickly say within a month. The matter is already there simply it awaits the finishing touch. I want to print also the Teachings of Lord Chaitanya. We must publish our books as much as possible because that will create our position. Back to Godhead should be the life and soul for the Society. Please let me know your program. Have you taken back the First Chapter of Geetopanisad from the publisher whom you delivered? I have asked you several times about this but I have received no reply from you. Please take it back.