Radharani

Krishna

Caitanya

God

God's Holy Names

Krishna Consciousness Movement

Who Is Srila Prabhupada

his Timeline

Months in his Life

Training his Disciples

Questions

Bhagavad-gita

Devotees of God

Devotional Service to God

Discipleship

Guru / Acharya

Essential Subjects

Nectar Drops

What's in Vanipedia now

Glorious Personalities

Yoga

Collaborate with us to invoke and fully manifest Srila Prabhupada's Vani-presence.
---
670315 - Letter to Kirtanananda written from San Francisco
From Vanisource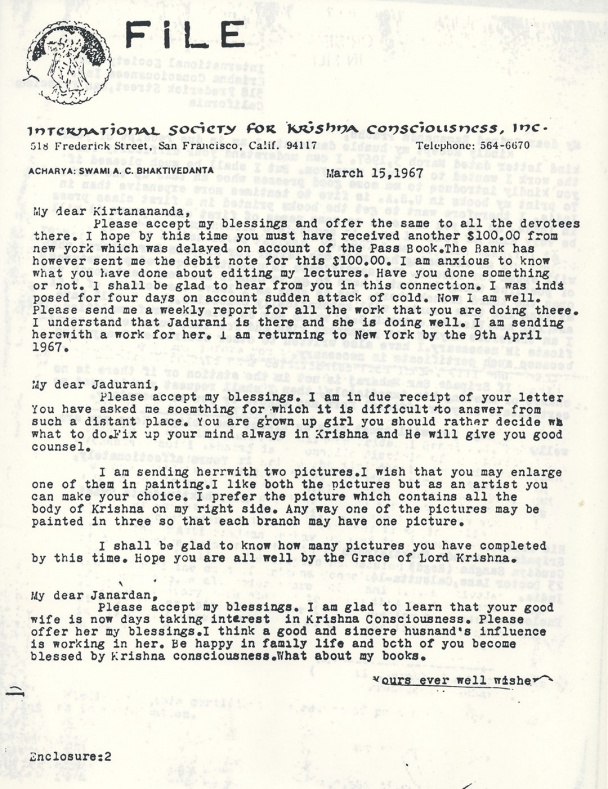 NTERNATIONAL SOCIETY FOR KRISHNA CONSCIOUSNESS, INC.
518 Frederick Street, San Francisco, Calif. 94117 TELEPHONE: 564-6670

ACHARYA:SWAMI A.C. BHAKTIVEDANTA
March 15, 1967
My Dear Kirtanananda,
Please accept my blessings and offer the same to all the devotees there. I hope by this time you must have received another $100.00 from new york which was delayed on account of the Pass Book. The Bank has however sent me the debit note for this $100.00. I am anxious to know what you have done about editing my lectures. Have you done something or not. I shall be glad to hear from you in this connection. I was indisposed for four days on account sudden attack of cold. Now I am well. Please send me a weekly report for all the work that you are doing there. I understand that Jadurani is there and she is doing well. I am sending herewith a work for her. I am returning to New York by the 9th April 1967.

Yours ever well wisher.