670119 - Letter to Brahmananda, Hayagriva, Kirtanananda, Satsvarupa, Gargamuni, Acyutananda and Jadurani written from San Francisco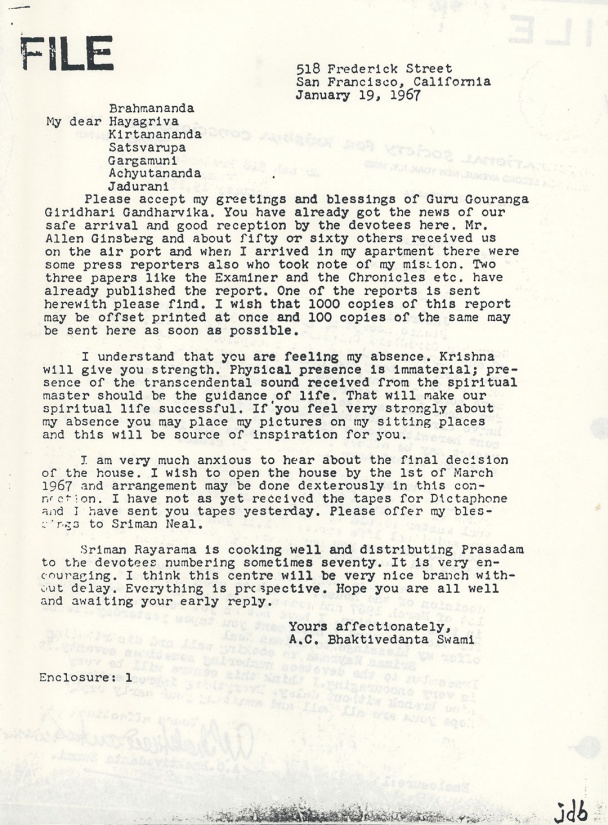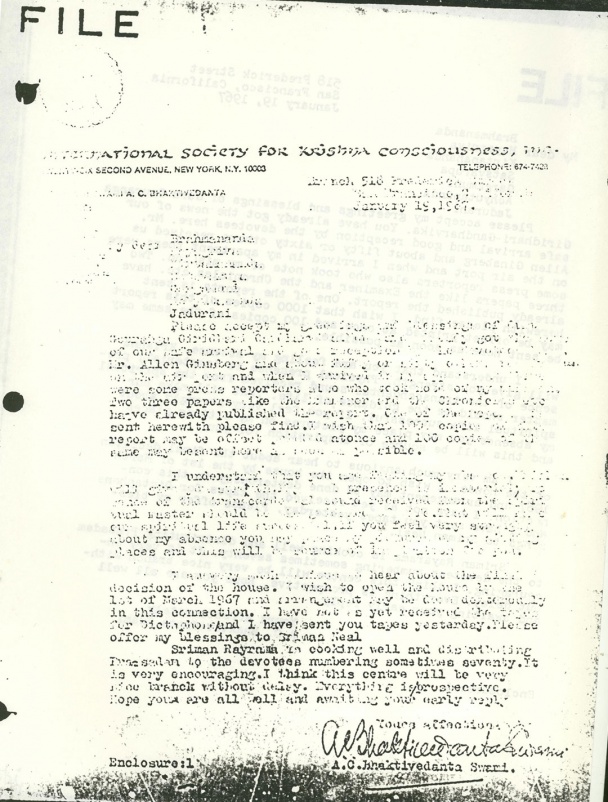 518 Frederick Street
San Francisco, California
January 19, 1967
My dear Brahmananda,
Hayagriva,
Kirtanananda,
Satsvarupa,
Gargamuni,
Achyutananda,
Jadurani,
Please accept my greetings and blessings of Guru Gouranga Giridhari Gandharvika. You have already got the news of our safe arrival and good reception by the devotees here. Mr. Allen Ginsberg and about fifty or sixty others received us on the air port and when I arrived in my apartment there were some press reporters also who took note of my mission. Two three papers like the Examiner and the Chronicles etc. have already published the report. One of the reports is sent herewith please find. I wish that 1000 copies of this report may be offset printed at once and 100 copies of the same may be sent here as soon as possible.
I understand that you are feeling my absence. Krishna will give you strength. Physical presence is immaterial; presence of the transcendental sound received from the spiritual master should be the guidance of life. That will make our spiritual life successful. If you feel very strongly about my absence you may place my pictures on my sitting places and this will be source of inspiration for you.
I am very much anxious to hear about the final decision of the house. I wish to open the house by the 1st of March 1967 and arrangement may be done dexterously in this connection. I have not as yet received the tapes for Dictaphone and I have sent you tapes yesterday. Please offer my blessings to Sriman Neal.
Sriman Rayarama is cooking well and distributing Prasadam to the devotees numbering sometimes seventy. It is very encouraging. I think this centre will be very nice branch without delay. Everything is prospective. Hope you are all well and awaiting your early reply.
Yours affectionately,
A.C. Bhaktivedanta Swami


Enclosure: 1