661113 - Letter to Sumati Morarji written from New York
From Vanisource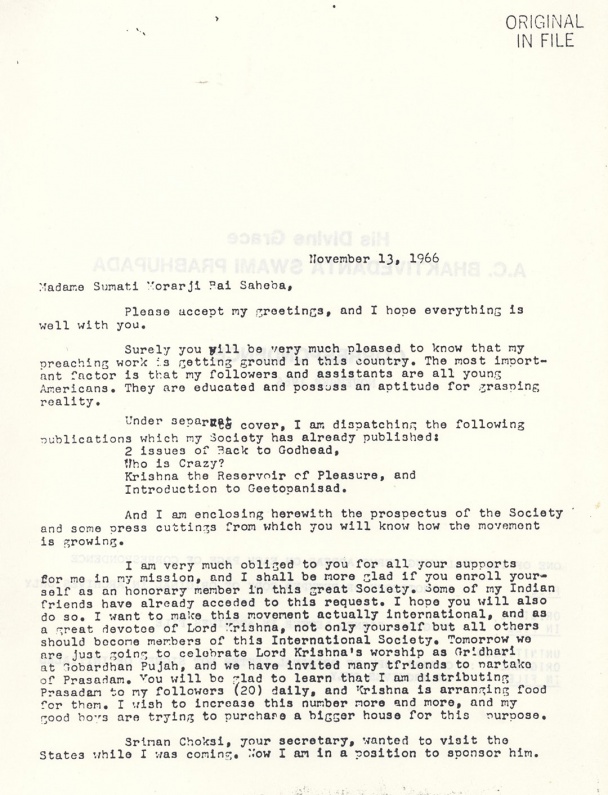 November 13, 1966
Madame Sumati Morarji Bai Saheba,
Please accept my greetings, and I hope everything is well with you.
Surely you will be very much pleased to know that my preaching work is getting ground in this country. The most important factor is that my followers and assistants are all young Americans. They are educated and possess an aptitude for grasping reality.
Under separate cover, I am dispatching the following publications which my Society has already published:
2 issues of Back to Godhead,
Who is Crazy?
Krishna the Reservoir of Pleasure, and
Introduction to Geetopanisad.
And I am enclosing herewith the prospectus of the Society and some press cuttings from which you will know how the movement is growing.
I am very much obliged to you for all your supports for me in my mission, and I shall be more glad if you enroll yourself as an honorary member in this great Society. Some of my Indian friends have already acceded to this request. I hope you will also do so. I want to make this movement actually international, and as a great devotee of Lord Krishna, not only yourself but all others should become members of this International Society. Tomorrow we are just going to celebrate Lord Krishna's worship as Gridhari at Gobardhan Pujah, and we have invited many friends to partake of Prasadam. You will be glad to learn that I am distributing Prasadam to my followers (20) daily, and Krishna is arranging food for them. I wish to increase this number more and more, and my good boys are trying to purchase a bigger house for this purpose.
Sriman Choksi, your secretary, wanted to visit the States while I was coming. Now I am in a position to sponsor him.
[TEXT MISSING]
If you so desire, please let me know and I shall send the sponsoring letters in this connection. My blessing for Choksi and all your staff members, and my good wishes for you. Awaiting your early reply,
Yours sincerely,
A.C. Bhaktivedanta, Swami
enclosures: 3