660803 - Letter to Bank of Baroda written from New York
From Vanisource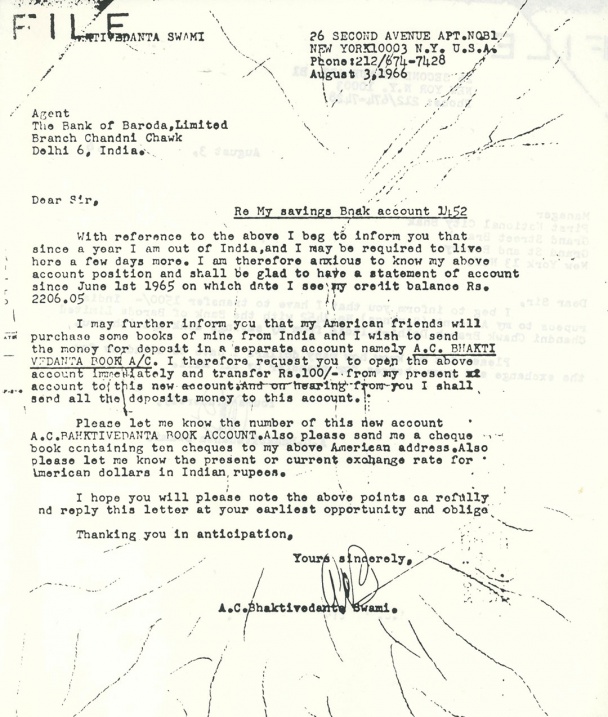 BHAKTIVEDANTA SWAMI
26 SECOND AVENUE APT.NO.B1
NEW YORK 10003 N.Y. U.S.A.
Phone:212/674-7428
August 3, 1966
Agent
The Bank of Baroda, Limited
Branch Chandni Chawk
Delhi 6, India

Dear Sir,
Re My savings Bank account 1452
With reference to the above I beg to inform you that since a year I am out of India, and I may be required to live here a few days more. I am therefore anxious to know my above account position and shall be glad to have a statement of account since June 1st 1965 on which date I see my credit balance Rs. 2206.05.
I may further inform you that my American friends will purchase some books of mine from India and I wish to send the money for deposit in a separate account namely A.C. BHAKTIVEDANTA BOOK A/C. I therefore request you to open the above account immediately and transfer Rs. 100/- from my present account to this new account. And on hearing from you I shall send all the deposits money to this account.
Please let me know the number of this new account A.C. BHAKTIVEDANTA BOOK ACCOUNT. Also please send me a cheque book containing ten cheques to my above American address. Also please let me know the present or current exchange rate for American dollars in Indian rupees.
I hope you will please note the above points carefully and reply this letter at your earliest opportunity and oblige.
Thanking you in anticipation,