660516 - Letter to Mangalaniloy Brahmacari written from New York
From Vanisource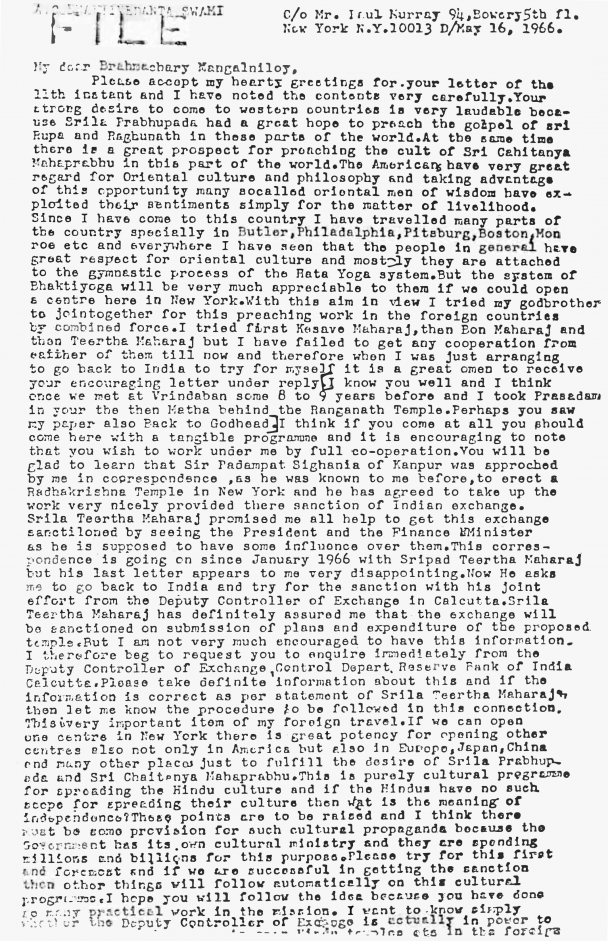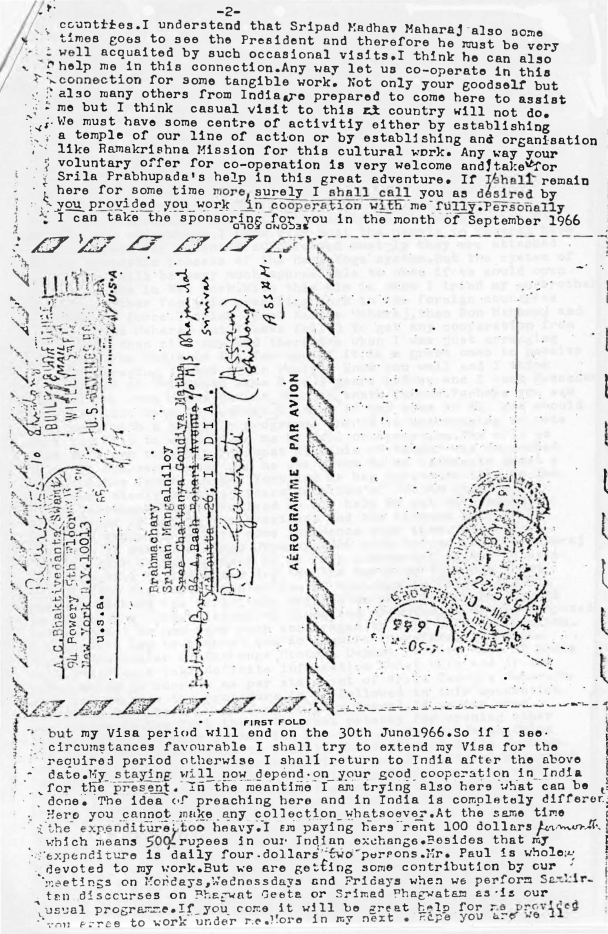 A.C. BHAKTIVEDANTA SWAMI
c/o Mr. Paul Murray 94, Bowery 5th fl.
New York N.Y.10013 D/May 16, 1966.

My dear Brahmachary Mangalniloy,
Please accept my hearty greetings for your letter of the 11th instant and I have noted the contents very carefully. Your strong desire to come to western countries is very laudable because Srila Prabhupada had a great hope to preach the gospel of Sri Rupa and Raghunath in these parts of the world. At the same time there is a great prospect for preaching the cult of Sri Chaitanya Mahaprabhu in this part of the world. The Americans have very great regard for Oriental culture and philosophy and taking advantage of this opportunity many so called oriental men of wisdom have exploited their sentiments simply for the matter of livelihood. Since I have come to this country I have travelled many parts of the country specially in Butler, Philadelphia, Pittsburgh, Boston, Monroe etc and everywhere I have seen that the people in general have great respect for oriental culture and mostly they are attached to the gymnastic process of the Hata Yoga system. But the system of Bhaktiyoga will be very much appreciable to them if we could open a centre here in New York. With this aim in view I tried my godbrothers to join together for this preaching work in the foreign countries by combined force. I tried first Kesave Maharaj, then Bon Maharaj and then Teertha Maharaj but I have failed to get any cooperation from either of them till now and therefore when I was just arranging to go back to India to try for myself it is a great omen to receive your encouraging letter under reply. [I know you well and I think once we met at Vrindaban some 8 to 9 years before and I took Prasadam in your then Matha behind the Ranganath Temple. Perhaps you saw my paper also Back to Godhead.] I think if you come at all you should come here with a tangible programme and it is encouraging to note that you wish to work under me by full co-operation. You will be glad to learn that Sir Padampat Sighania of Kanpur was approached by me in correspondence, as he was known to me before, to erect a Radhakrishna Temple in New York and he has agreed to take up the work very nicely provided there is sanction of Indian exchange. Srila Teertha Maharaj promised me all help to get this exchange sanctioned by seeing the President and the Finance Minister as he is supposed to have some influence over them. This correspondence is going on since January 1966 with Sripad Teertha Maharaj but his last letter appears to me very disappointing. Now He asks me to go back to India and try for the sanction with his joint effort from the Deputy Controller of Exchange in Calcutta. Srila Teertha Maharaj has definitely assured me that the exchange will be sanctioned on submission of plans and expenditure of the proposed temple. But I am not very much encouraged to have this information. I therefore beg to request you to enquire immediately from the Deputy Controller of Exchange, Control Depart. Reserve Bank of India Calcutta. Please take definite information about this and if the information is correct as per statement of Srila Teertha Maharaj then let me know the procedure to be followed in this connection. This is very important item of my foreign travel. If we can open one centre in New York there is great potency for opening other centres also not only in America but also in Europe, Japan, China and many other places just to fulfill the desire of Srila Prabhupada and Sri Chaitanya Mahaprabhu. This is purely cultural programme for spreading the Hindu culture and if the Hindus have no such scope for spreading their culture then what is the meaning of independence? These points are to be raised and I think there must be some provision for such cultural propaganda because the Government has its own cultural ministry and they are spending millions and billions for this purpose. Please try for this first and foremost and if we are successful in getting the sanction then other things will follow automatically on this cultural programme. I hope you will follow the idea because you have done so many practical work in the mission. I want to know simply whether the Deputy Controller of Exchange is actually in power to [text missing] sanction such exchange as to open Hindu temples etc in the foreign countries. I understand that Sripad Madhav Maharaj also sometimes goes to see the President and therefore he must be very well acquainted by such occasional visits. I think he can also help me in this connection. Anyway let us co-operate in this connection for some tangible work. Not only your good self but also many others from India are prepared to come here to assist me but I think casual visit to this country will not do. We must have some centre of activity either by establishing a temple of our line of action or by establishing an organization like Ramakrishna Mission for this cultural work. Anyway your voluntary offer for co-operation is very welcome and I take it [handwritten] for Srila Prabhupada's help in this great adventure. If I shall remain here for some time more, surely I shall call you as desired by you provided you work in cooperation with me fully. Personally I can take the sponsoring for you in the month of September 1966 but my Visa period will end on the 30th June 1966. So if I see circumstances favorable I shall try to extend my Visa for the required period otherwise I shall return to India after the above date. My staying will now depend on your good cooperation in India for the present. In the meantime I am trying also here what can be done. The idea of preaching here and in India is completely different. Here you cannot make any collection whatsoever. At the same time the expenditure is too heavy. I am paying here rent 100 dollars per month [handwritten] which means 500/- rupees in our Indian exchange. Besides that my expenditure is daily four dollars two persons. Mr. Paul is wholly devoted to my work. But we are getting some contribution by our meetings on Mondays, Wednesdays and Fridays when we perform Samkirtan discourses on Bhagwat Geeta or Srimad Bhagwatam as is our usual programme. If you come it will be great help for me provided you agree to work under me. More in my next. Hope you are well [text missing] and awaiting your early reply.

A.C. Bhaktivedanta Swami
37 Bowery 5th Floor
New York N.Y.10013
u.s.a.
Brahmachary
Sriman Mangalniloy
c/o M/S Maijan lal Srinivas [handwritten]
INDIA
P.O. (Shillong) ASSAM [handwritten]