651113 - Letter to Sally written from New York
From Vanisource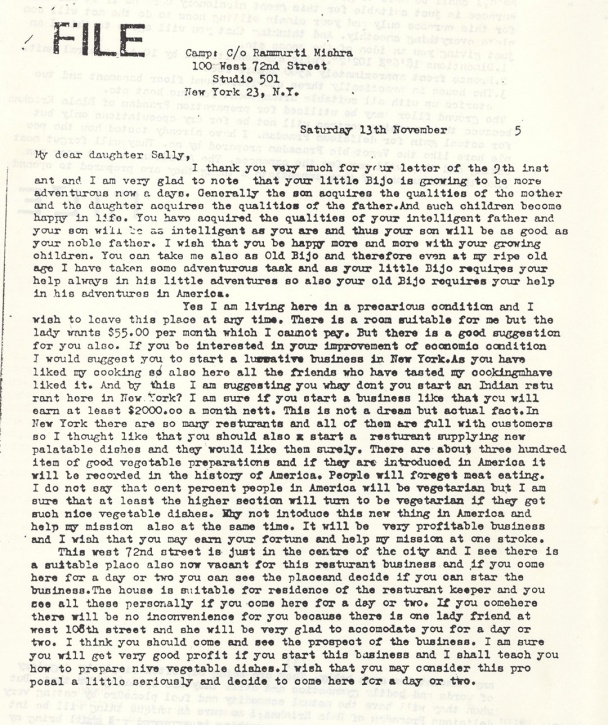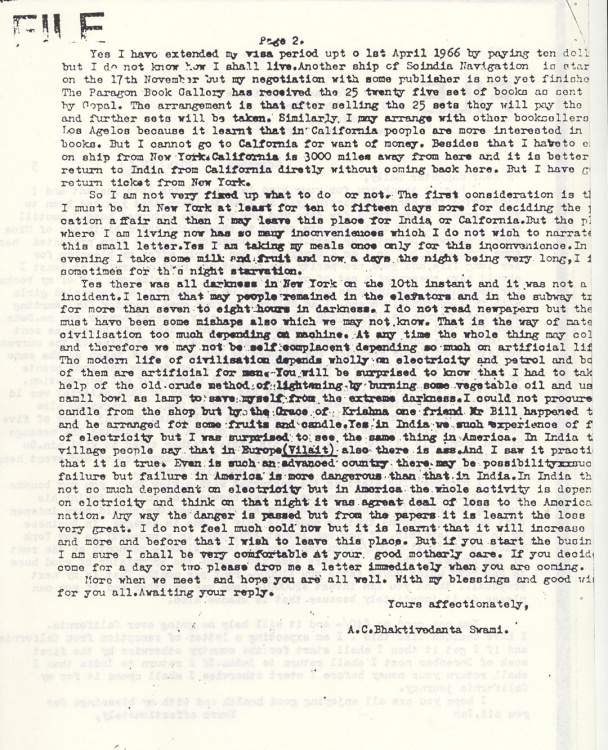 Camp: C/o Rammurti Mishra
100 West 72nd. Street
Studio 501
New York 23, N.Y.

Saturday 13th November 1965

My dear daughter Sally,
I thank you very much for your letter of the 9th instant and I am very glad to note that your little Bijo is growing to be more adventurous nowadays. Generally the son acquires the qualities of the mother and the daughter acquires the qualities of the father. And such children become happy in life. You have acquired the qualities of your intelligent father and your son will be as intelligent as you are and thus your son will be as good as your noble father. I wish that you be happy more and more with your growing children. You can take me also as Old Bijo and therefore even at my ripe old age I have taken some adventurous task and as your little Bijo requires your help always in his little adventures so also your old Bijo requires your help in his adventures in America.
Yes I am living here in a precarious condition and I wish to leave this place at any time. There is a room suitable for me but the lady wants $55.00 per month which I cannot pay. But there is a good suggestion for you also. If you be interested in your improvement of economic condition I would suggest you to start a lucrative business in New York. As you have liked my cooking so also here all the friends who have tasted my cooking have liked it. And by this I am suggesting you why don't you start an Indian restaurant here in New York? I am sure if you start a business like that you will earn at least $2000.00 a month net. This is not a dream but actual fact. In New York there are so many restaurants and all of them are full with customers so I thought like that you should also start a restaurant supplying new palatable dishes and they would like them surely. There are about three hundred item of good vegetable preparations and if they are introduced in America it will be recorded in the history of America. People will forget meat eating. I do not say that cent percent people in America will be vegetarian but I am sure that at least the higher section will turn to be vegetarian if they get such nice vegetable dishes. Why not introduce this new thing in America and help my mission also at the same time. It will be very profitable business and I wish that you may earn your fortune and help my mission at one stroke.
This west 72nd street is just in the centre of the city and I see there is a suitable place also now vacant for this restaurant business and if you come here for a day or two you can see the place and decide if you can start the business. The house is suitable for residence of the restaurant keeper and you see all these personally if you come here for a day or two. If you come here there will be no inconvenience for you because there is one lady friend at west 108th street and she will be very glad to accommodate you for a day or two. I think you should come and see the prospect of the business. I am sure you will get very good profit if you start this business and I shall teach you how to prepare nice vegetable dishes. I wish that you may consider this proposal a little seriously and decide to come here for a day or two.

Yes I have extended my visa period up to 1st April 1966 by paying ten dollars but I do not know how I shall live. Another ship of Scindia Navigation is starting on the 17th November but my negotiation with some publisher is not yet finished. The Paragon Book Gallery has received the 25 twenty five sets of books as sent by Gopal. The arrangement is that after selling the 25 sets they will pay the money and further sets will be taken. Similarly I may arrange with other booksellers in Los Angeles because it learnt that in California people are more interested in such books. But I cannot go to California for want of money. Besides that I have to embark on ship from New York. California is 3000 miles away from here and it is better to return to India from California directly without coming back here. But I have got my return ticket from New York.
So I am not very fixed up what to do or not. The first consideration is that I must be in New York at least for ten to fifteen days more for deciding the publication affair and then I may leave this place for India or California. But the place where I am living now has so many inconveniences which I do not wish to narrate in this small letter. Yes I am taking my meals once only for this inconvenience. In the evening I take some milk and fruit and nowadays the night being very long, I feel sometimes for this night starvation.
Yes there was all darkness in New York on the 10th instant and it was not a happy incident. I learn that may people remained in the elevators and in the subway trains for more than seven to eight hours in darkness. I do not read newspapers but there must have been some mishaps also which we may not know. That is the way of material civilization too much depending on machine. At any time the whole thing may collapse and therefore we may not be self complacent depending so much on artificial life. The modern life of civilization depends wholly on electricity and petrol and both of them are artificial for men. You will be surprised to know that I had to take help of the old crude method of lightening by burning some vegetable oil and use the small bowl as lamp to save myself from the extreme darkness. I could not procure any candle from the shop but by the Grace of Krishna one friend Mr. Bill happened to come and he arranged for some fruits and candle. Yes in India we such experience of failure of electricity but I was surprised to see the same thing in America. In India the village people say that in Europe (Vilait) also there is ass. And I saw it practically that it is true. Even in such an advanced country there may be possibility such failure but failure in America is more dangerous than that in India. In India they are not so much dependent on electricity but in America the whole activity is dependent on electricity and think on that night it was a great deal of loss to the American nation. Any way the danger is passed but from the papers it is learnt the loss is very great. I do not feel much cold now but it is learnt that it will increase more and more and before that I wish to leave this place. But if you start the business I am sure I shall be very comfortable at your good motherly care. If you decide to come for a day or two please drop me a letter immediately when you are coming.
More when we meet and hope you are all well. With my blessings and good wishes for you all. Awaiting your reply.
Yours affectionately,
A.C. Bhaktivedanta Swami.