SB 4.31.25
From Vanisource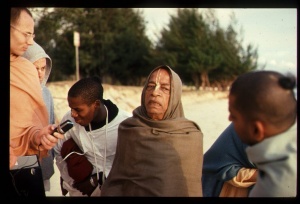 TEXT 25
etat te 'bhihitaṁ kṣattar
yan māṁ tvaṁ paripṛṣṭavān
pracetasāṁ nāradasya
saṁvādaṁ hari-kīrtanam
SYNONYMS
etat—this; te—unto you; abhihitam—instructed; kṣattaḥ—O Vidura; yat—whatever; mām—unto me; tvam—you; paripṛṣṭavān—inquired; pracetasām—of the Pracetās; nāradasya—of Nārada; saṁvādam—conversation; hari-kīrtanam—describing the glories of the Lord.
TRANSLATION
My dear Vidura, I have told you everything you wanted to know about the conversation between Nārada and the Pracetās, the conversation describing the glories of the Lord. I have related this as far as possible.
PURPORT
Śrīmad-Bhāgavatam describes the glories of the Lord and His devotees. Because the whole subject matter is the glorification of the Lord, naturally the glorification of His devotees automatically follows.