SB 4.13.5
From Vanisource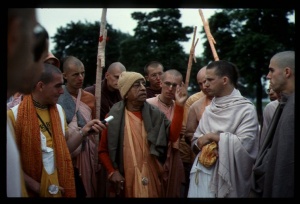 TEXT 5
yās tā devarṣiṇā tatra
varṇitā bhagavat-kathāḥ
mahyaṁ śuśrūṣave brahman
kārtsnyenācaṣṭum arhasi
SYNONYMS
yāḥ—which; tāḥ—all those; devarṣiṇā—by the great sage Nārada; tatra—there; varṇitāḥ—narrated; bhagavat-kathāḥ—preachings pertaining to the activities of the Lord; mahyam—unto me; śuśrūṣave—very eager to hear; brahman—my dear brāhmaṇa; kārtsnyena—fully; ācaṣṭum arhasi—kindly explain.
TRANSLATION
My dear brāhmaṇa, how did Nārada Muni glorify the Supreme Personality of Godhead, and what pastimes were described in that meeting? I am very eager to hear of them. Kindly explain fully about that glorification of the Lord.
PURPORT
Śrīmad-Bhāgavatam is the record of bhagavat-kathā, topics about the pastimes of the Lord. What Vidura was anxious to hear from Maitreya we can also hear five thousand years later, provided we are very eager.