CC Madhya 20.242
From Vanisource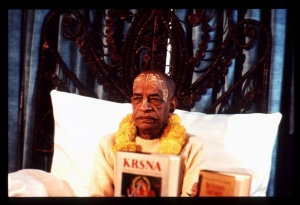 TEXT 242
catvāro vāsudevādyā
nārāyaṇa-nṛsiṁhakau
hayagrīvo mahākroḍo
brahmā ceti navoditāḥ
SYNONYMS
catvāraḥ—four principal protectors; vāsudeva-ādyāḥ—Vāsudeva, Saṅkarṣaṇa, Pradyumna and Aniruddha; nārāyaṇa—including Lord Nārāyaṇa; nṛsiṁhakau—as well as Lord Nṛsiṁha; hayagrīvaḥ—Lord Hayagrīva; mahākroḍaḥ—Lord Varāha; brahmā—Lord Brahmā; ca—also; iti—thus; nava-uditāḥ—nine personalities.
TRANSLATION
"'The nine personalities mentioned are Vāsudeva, Saṅkarṣaṇa, Pradyumna, Aniruddha, Nārāyaṇa, Nṛsiṁha, Hayagrīva, Varāha and Brahmā.'
PURPORT
This verse is found in the Laghu-bhāgavatāmṛta (1.451). The Brahmā mentioned herein is not a living entity. Sometimes, when there is a scarcity of living entities to take charge of Brahmā's post, Mahā-Viṣṇu expands Himself as Lord Brahmā. This Brahmā is not considered to be a living entity; He is an expansion of Viṣṇu.