751112 - Letter to Sri N. Tombi Singh written from Bombay
From Vanisource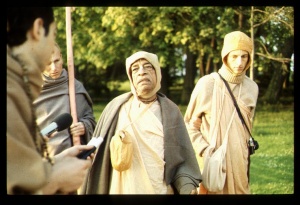 November 12, 1975

Sri N. Tombi Singh, M.P.
(Lok Saba)
108 South Avenue
New Delhi

Dear Sri Singh,
I have received a letter from the Manipur Gita Mandal in Imphal dated August 18, 1975 inviting me and my disciples to Manipur for putting on my programs. I am prepared to go to Manipur with 6 or 7 or my European and Indian disciples in April, 1976. So if you can arrange for my going there, I am prepared.
Thanking you,
Sincerely yours,
A.C. Bhaktivedanta Swami
ACBS/BS/mdd
c.c. Kulachandra Singh
Secretary, Manipur Gita Mandal
Dr. T. H. Damodar Singh
Atlanta, Georgia, U.S.A.