751016 - Letter to Tejiyas written from Johannesburg
From Vanisource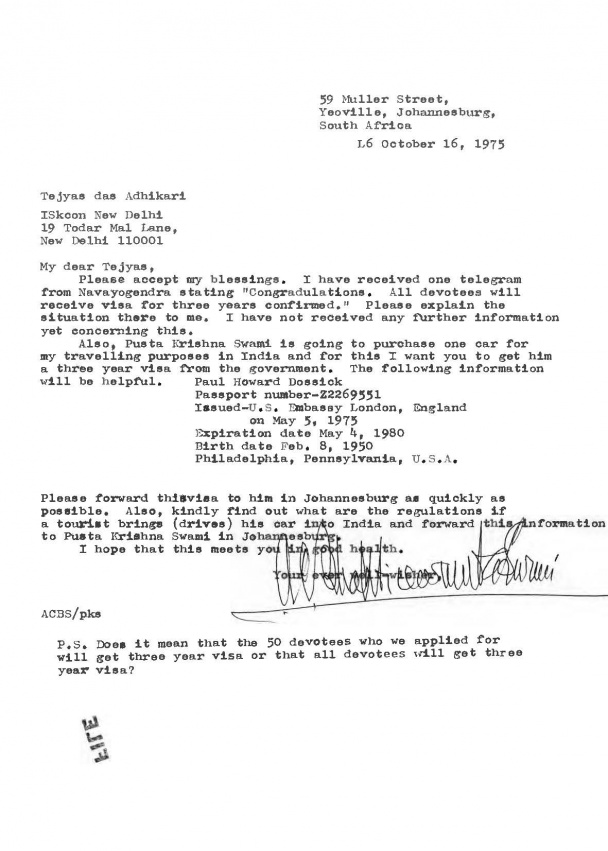 59 Muller Street,
Yeoville, Johannesburg,
South Africa
L6 October 16, 1975



Tejyas das Adhikari
Iskcon New Delhi
19 Todar Mal Lane,
New Delhi 110001
My dear Tejyas,
Please accept my blessings. I have received one telegram from Navayogendra stating "Congratulations. All devotees will receive visa for three years confirmed." Please explain the situation there to me. I have not received any further information yet concerning this.
Also, Pusta Krishna Swami is going to purchase one car for my travelling purposes in India and for this I want you to get him a three year visa from the government. The following information will be helpful.
Paul Howard Dossick
Passport number-Z2269551
Issued-U.S. Embassy London, England
on May 5, 1975
Expiration date May 4,   1980
Birth date Feb. 8,   1950
Philadelphia, Pennsylvania, U.S.A.

Please forward this visa to him in Johannesburg as quickly as possible. Also, kindly find out what are the regulations if a tourist brings (drives) his car into India and forward this information to Pusta Krishna Swami in Johannesburg.
I hope that this meets you in good health.
Your ever well-wisher,



ACBS/pks

P.S. Does it mean that the 50 devotees who we applied for will get three year visa or that all devotees will get three year visa?