741016 - Letter to Pusta Krsna written from Mayapur
From Vanisource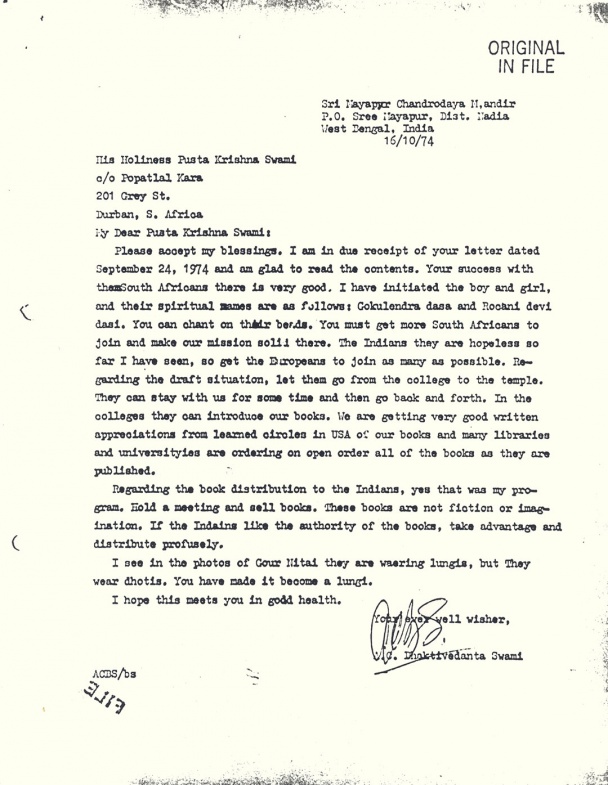 Sri Mayapur Chandrodaya Mandir
P.O. Sree Mayapur, Dist. Nadia
West Bengal, India
16/10/74
His Holiness Pusta Krishna Swami
c/o Popatlal Kara
201 Grey St.
Durban, S. Africa
My Dear Pusta Krishna Swami:
Please accept my blessings. I am in due receipt of your letter dated September 24, 1974 and am glad to read the contents. Your success with the South Africans there is very good. I have initiated the boy and girl, and their spiritual names are as follows: Gokulendra dasa and Rocani devi dasi. You can chant on their beads. You must get more South Africans to join and make our mission solid there. The Indians they are hopeless so far I have seen, so get the Europeans to join as many as possible. Regarding the draft situation, let them go from the college to the temple. They can stay with us for some time and then go back and forth. In the colleges they can introduce our books. We are getting very good written appreciations from learned circles in USA of our books and many libraries and universities are ordering on open order all of the books as they are published.
Regarding the book distribution to the Indians, yes that was my program. Hold a meeting and sell books. These books are not fiction or imagination. If the Indians like the authority of the books, take advantage and distribute profusely.
I see in the photos of Gaura Nitai they are wearing lungis, but They wear dhotis. You have made it become a lungi.
I hope this meets you in good health.
Your ever well wisher,
     


A.C. Bhaktivedanta Swami
ACBS/bs