740503 - Letter to Bhurijana written from Bombay
From Vanisource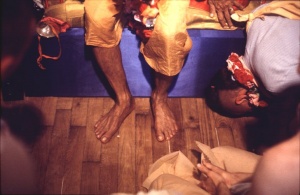 May 03, 1974

Hong Kong
My Dear Bhurijana,
Please accept my blessings. I have received your letter of May 1st, 1974, and have carefully noted the contents.
It comes as a shock to me that you have stepped down from your duties as president of our Hong Kong center. Your move is not satisfactory to me, but what can I do? If you are persistent about your desire to leave you are free to act on your own. You are actually the experienced man for Hong Kong; you were constructing a temple according to our last letter, getting ready to publish Chinese publications, organizing the Chinese boys and conducting childrens' classes.
Everyone, of course, has his independence. That is the cause of our material life. Misusing that minute independence we are out of the spiritual world. If you want to go as husband and wife to see your parents that is not bad, but why avoid your responsibility which you have already taken? At least develop your assistant Devaprastha and when you see he is able to do nicely then you can change. I don't think a new man can manage as nicely as you were doing. I will also write to GBC of Hong Kong, Madhudvisa Maharaja, and learn if he plans to send a new man there.
As for your future plans, you write that you are not sure where you will go after arriving in New York, and it is not certain that you will live with devotees. How will you advance without association of devotees? I do not exactly follow your thinking, but for the time being you can go. But I think you can come back and work diligently in Hong Kong. In your absence Madhudvisa Maharaja can be informed.
Your ever well-wisher,
A.C. Bhaktivedanta Swami
ACBS/sdg