730811 - Letter to Tamala Krishna written from Paris
From Vanisource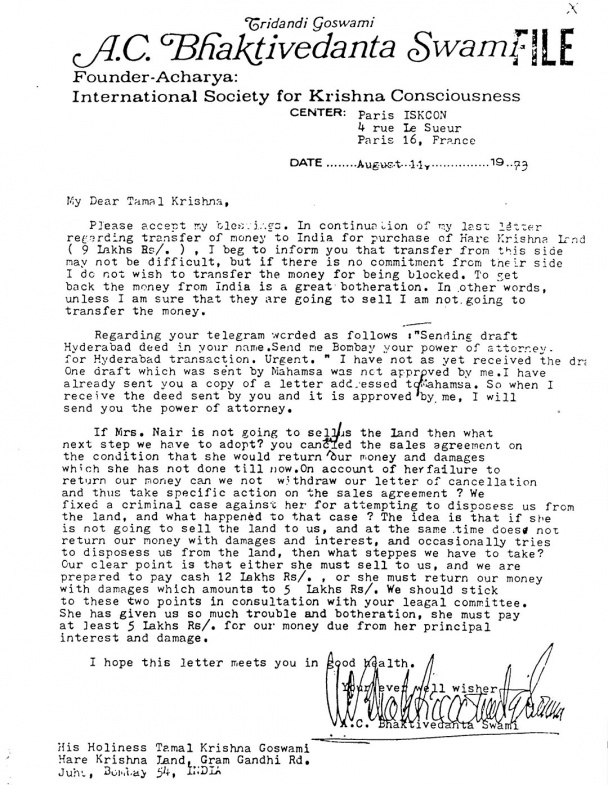 Tridandi Goswami
A.C. Bhaktivedanta Swami
Founder-Acharya:
International Society for Krishna Consciousness
CENTER:  Paris ISKCON
               4 rue Le Sueur
               Paris 16, France
DATE .......August..11,.............19..73

My Dear Tamal Krishna,
Please accept my blessings. In continuation of my last letter regarding transfer of money to India for purchase of Hare Krishna Land (9 Lakhs Rs/.), I beg to inform you that transfer from this side may not be difficult, but if there is no commitment from their side I do not wish to transfer the money for being blocked. To get back the money from India is a great botheration. In other words, unless I am sure that they are going to sell I am not going to transfer the money.
Regarding your telegram worded as follows: "Sending draft Hyderabad deed in your name. Send me Bombay your power of attorney for Hyderabad transaction. Urgent." I have not as yet received the draft. One draft which was sent by Mahamsa was not approved by me. I have already sent you a copy of a letter addressed to Mahamsa. So when I receive the deed sent by you and it is approved by me, I will send you the power of attorney.
If Mrs. Nair is not going to sell us the land then what next step we have to adopt? you cancelled [handwritten] the sales agreement on the condition that she would return our money and damages which she has not done till now. On account of her failure to return our money can we not withdraw our letter of cancellation and thus take specific action on the sales agreement? We fixed a criminal case against her for attempting to dispossess us from the land, and what happened to that case? The idea is that if she is not going to sell the land to us, and at the same time does not return our money with damages and interest, and occasionally tries to dispossess us from the land, then what steps we have to take? Our clear point is that either she must sell to us, and we are prepared to pay cash 12 Lakhs Rs/., or she must return our money with damages which amounts to 5 Lakhs Rs/. We should stick to these two points in consultation with your legal committee. She has given us so much trouble and botheration, she must pay at least 5 Lakhs Rs/. for our money due from her principal interest and damage.
I hope this letter meets you in good health.
Your ever well wisher



A.C. Bhaktivedanta Swami

His Holiness Tamal Krishna Goswami
Hare Krishna Land, Gram Gandhi Rd.
Juhu, Bombay 54, INDIA