730221 - Letter to Karandhara written from Auckland
From Vanisource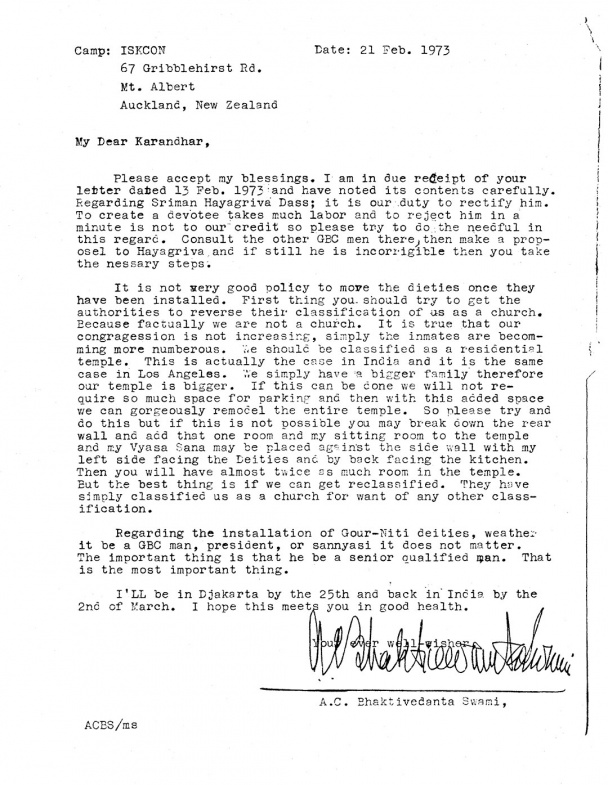 Date:  21 Feb, 1973
Camp:  ISKCON
67 Gribblehirst Rd.
Mt. Albert
Auckland, New Zealand

My Dear Karandhar,

Please accept my blessings. I am in due receipt of your letter dated 13 Feb. 1973 and have noted its contents carefully. Regarding Sriman Hayagriva Dass; it is our duty to rectify him. To create a devotee takes much labor and to reject him in a minute is not to our credit so please try to do the needful in this regard. Consult the other GBC men there, then make a proposal to Hayagriva and if still he is incorrigible then you take the necessary steps.
It is not very good policy to move the deities once they have been installed. First thing you should try to get the authorities to reverse their classification of us as a church. Because factually we are not a church. It is true that our congregation is not increasing, simply the inmates are becoming more numerous. We should be classified as a residential temple. This is actually the case in India and it is the same case in Los Angeles. We simply have a bigger family therefore our temple is bigger. If this can be done we will not require so much space for parking and then with this added space we can gorgeously remodel the entire temple. So please try and do this but if this is not possible you may break down the rear wall and add that one room and my sitting room to the temple and my Vyasa Sana may be placed against the side wall with my left side facing the Deities and by back facing the kitchen. Then you will have almost twice as much room in the temple. But the best thing is if we can get reclassified. They have simply classified us as a church for want of any other classification.
Regarding the installation of Gour-Nitai deities, weather it be a GBC man, president, or sannyasi it does not matter. The important thing is that he be a senior qualified man. That is the most important thing.
I'll be in Djakarta by the 25th and back in India by the 2nd of March. I hope this meets you in good health.
A.C. Bhaktivedanta Swami
ACBS/ms